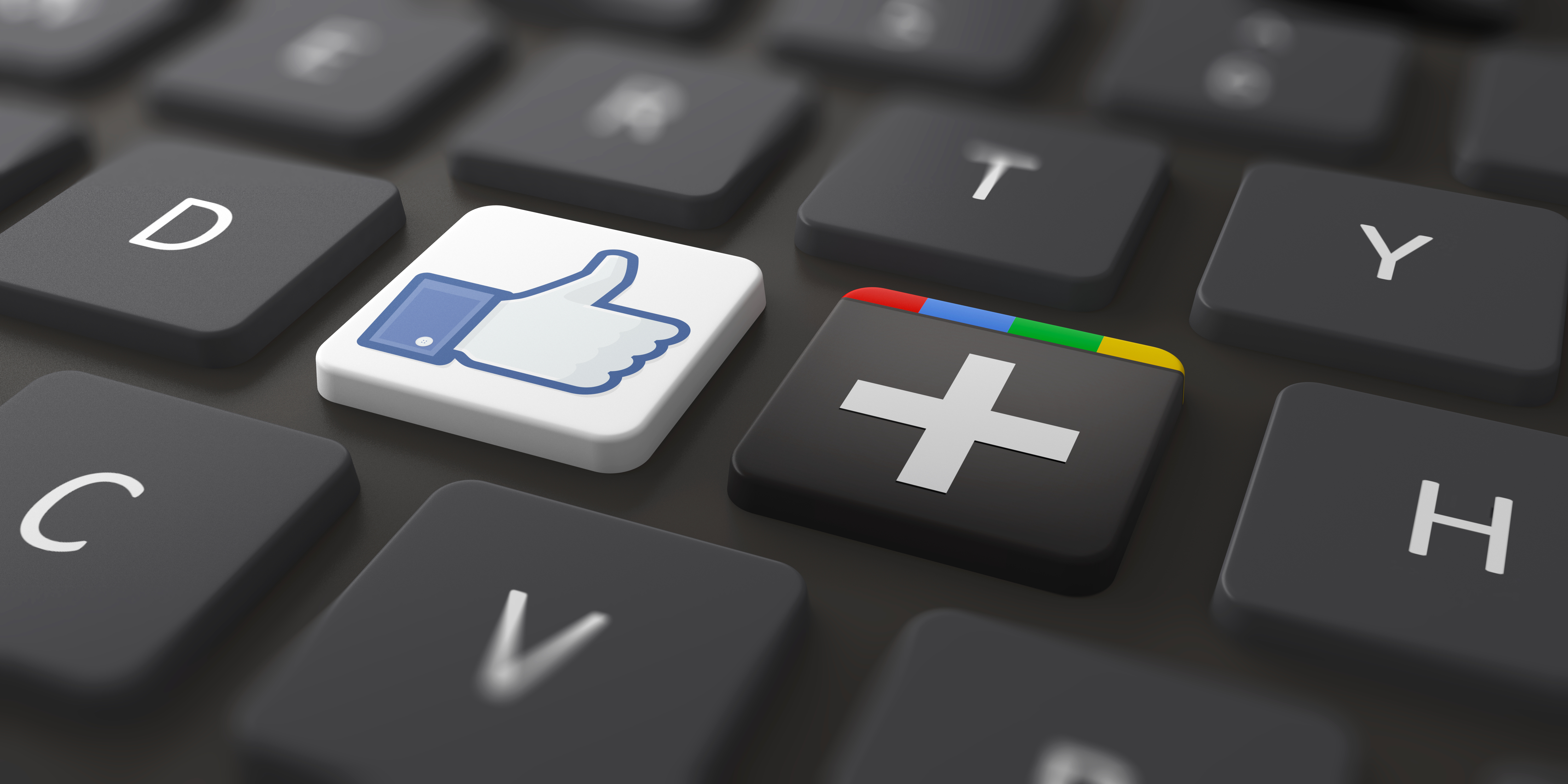 Prints belong to the past: Today, the best way to sell a property is to advertise it on the internet.
Dominated by giants Google and Facebook, advertising placement is the most effective way for a real estate broker to ensure the visibility of his or her homes for sale. But how does it work?
In this article, you will find a brief description of the similarities and particularities of Facebook Ads and Google AdWords, which will help you better determine the best marketing solution for you.
As a real estate broker or home builder, you may not have enough time to manage your advertising campaigns yourself. No problem: Urbanimmersive takes care of it with diligence and expertise. Click here to retain our advertising placement services!
What Services Do Google Adwords and Facebook Ads Offer?
Based on the identified search terms, Google AdWords displays ads on its Search (that is, as text in search results) and Display networks (as images or videos on websites). On Search, advertising follows strict editorial criteria and it must be very short; hardly more than a few lines. You can manage your campaign schedule with the AdWords Management Calendar, even choosing specific hours for its run.
On Facebook, ads are always visual and featured in the newsfeed or the right column. Presentation is key, and you will find all kinds of interesting and original advertising formats. However, an image can only have 20% text, which limits the amount of information you can include: This restriction does not exist with Google AdWords. However, there is no hourly schedule to manage your advertising campaign.
And What Is Remarketing, Exactly?
Have you ever shopped online for shoes without actually buying anything, only to see advertisements for the pair of boots you almost bought on websites you visited afterwards? That's remarketing: A popular Google AdWords tool that targets people with ads for a recently visited website. Thus, an individual who visited the web page of one of your properties during the day could see it again in the evening, on a random website.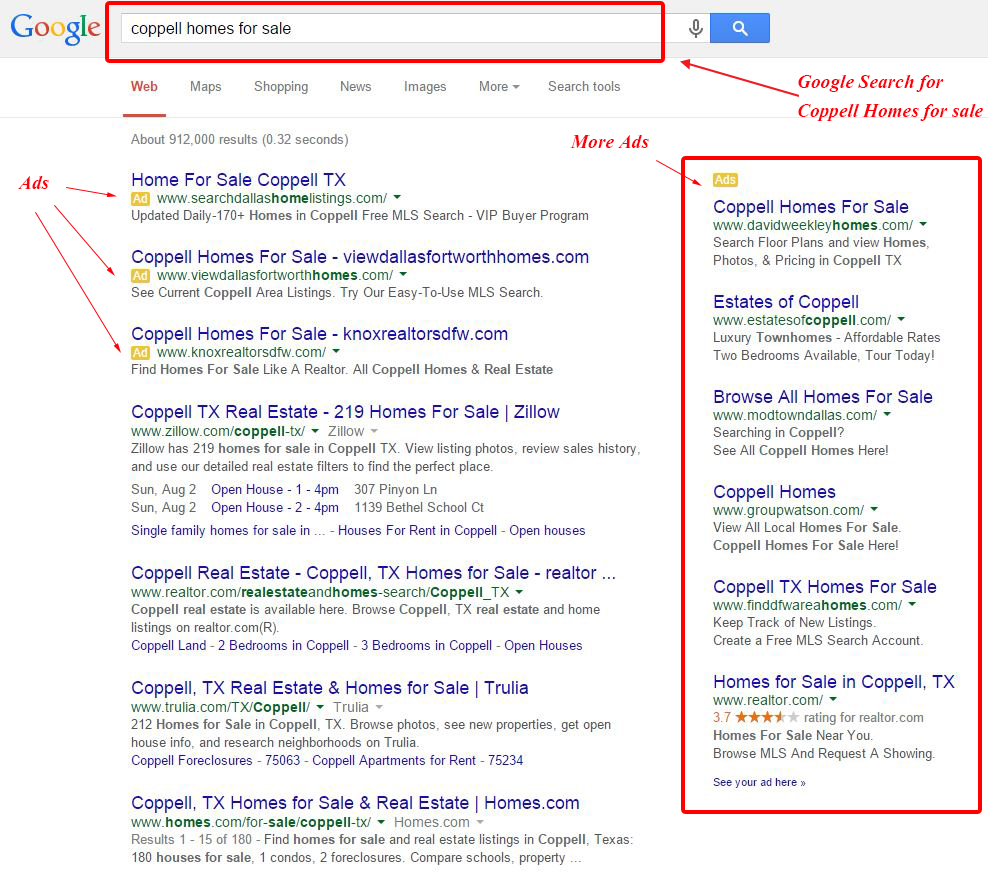 Reference: https://www.knoxre.com/blog/google-adwords-ppc-for-realtors-real-estate-agents.html
Sharp Targeting Options
Google targets searchers, and there are many: It is estimated that Google runs approximately 180 billion searches per month. In total, Google reaches about 90% of internet users around the world, an astronomical number! In addition to keywords used in searches, Google targets its demographics by location, age, gender and family status. With AdSense, a robot also scans the emails of Gmail users: if someone writes an email in which he tells a friend he's considering the purchase of a house on the North Shore, for example, an advertisement for one of your properties for sale could be displayed on his computer.
Facebook has about 1.4 billion active users who visit the platform every day, so that it reaches around 45% of all internet users in the world—and let's not forget that Instagram belongs to Facebook too! To target its customers, Facebook relies on more precise factors than those of Google: In addition to their location, age, sex and marital status, users are targeted according to their behaviour. Facebook analyzes their "likes", the events they have shown interest in and their hobbies, as well as the life events they go through. A couple who has just become engaged may be more targeted for the purchase of a property, for example.
How Much Does It Cost?
These two ad networks work on a pay-per-click basis, which means that each time a viewer clicks on an ad, a fee is charged to the advertiser (you), based on a maximum daily amount set by yourself. Basically, you do not pay for displaying your ad, but rather every time someone interacts with it.
The cost of keywords is determined by automated bidding. Google AdWords usually costs more than Facebook, which is explained by the very tight competition, especially for the purchase of keywords: Indeed, everyone wants to appear on the first page of search results! The cost per click is usually around $0.28 on Facebook and $2.32 on Google. On the latter, the most popular keywords can be worth much more than that: Thus, "insurance" is worth $54.91, "loans", $44.28, and "mortgage", $47.12!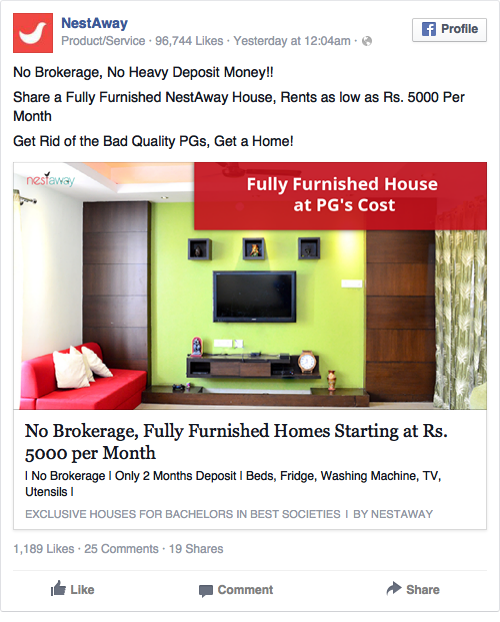 Reference: https://adespresso.com/blog/real-estate-advertising-facebook/
So, Who Wins?
There is no winner and no loser: It all depends on your intentions and needs. Google AdWords will probably allow you to generate better sales since it directly solicits users who are actively looking for a property. However, it is difficult to predict the number of searches that will be done during your campaign.
That said, even if Facebook targets users who have not solicited this advertisement, it gives you more visibility. Therefore, it will help you boost your brand awareness and generate more leads. But be careful not to give too much importance to the number of "likes" and comments, since it is not a performance indicator of your campaign: What you really want are clicks and visibility.
In short, Google AdWords and Facebook Ads are perfectly compatible. In fact, as a real estate broker, you could greatly benefit from a marketing strategy that combines these two services.
Now you understand the subtleties of Google AdWords and Facebook Ads advertising campaigns, but do you have time to deal with them? Urbanimmersive's one-click solution allows you to launch your campaigns and maintain control over them, but without the hassle of management: We take care of it for you.
Real Estate NewsLetter
Subscribe to our real estate newsletter. Simply enter your email below and click "Subscribe": You can unsubscribe at anytime.