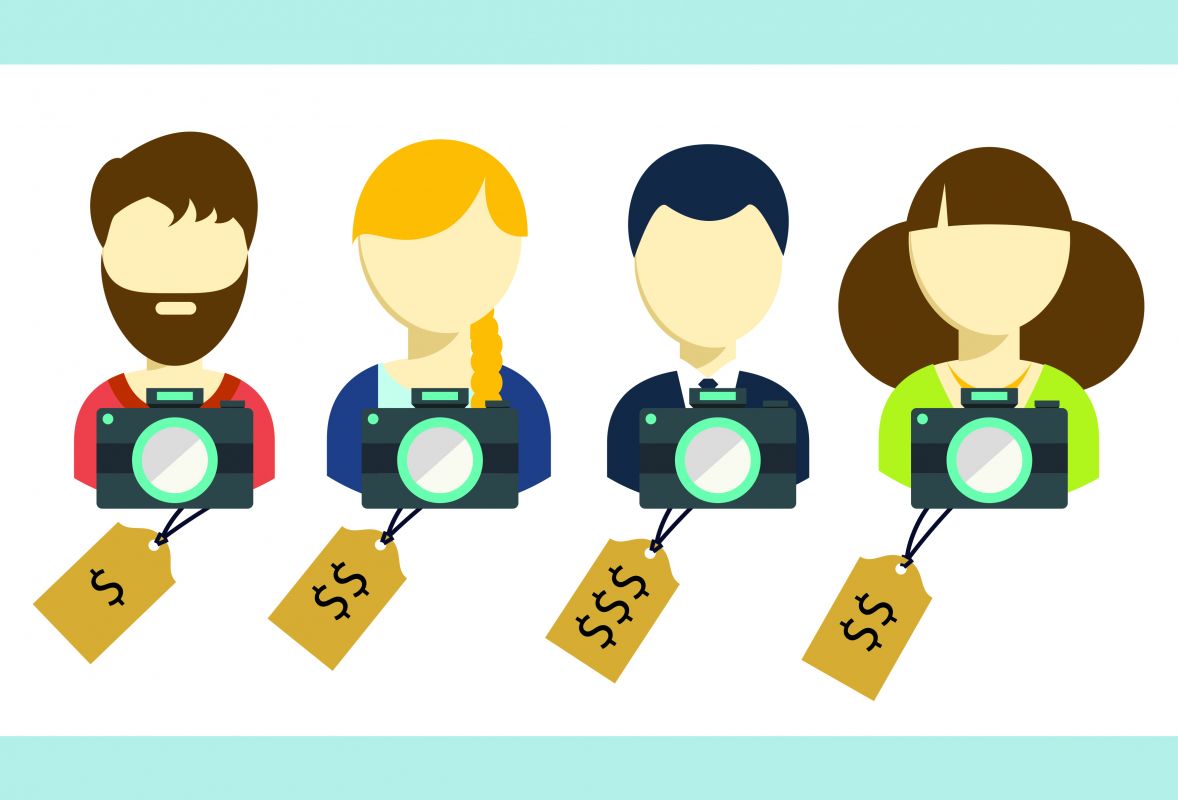 How much do the services of a real estate photographer cost on average?
What criteria should you use to find one that suits you? And what about photo copyrights? Here are some answers to enlighten you!
Do You Pay Too Much for the Services of Your Real Estate Photographer?
To answer the question, it is important, among other things, to understand which type of real estate photographer you are dealing with or plan to hire for a property for sale.
One can generally divide real estate photographers into three broad categories: Photography technicians, artist photographers, and hybrid photographers, both technicians and artists.
Each one of our three groups of image experts, of course, responds to different needs; there is not one better than the other! By identifying your needs and knowing how to differentiate the three types of real estate photographers, you will be able to identify the one that suits you best while being aware of its real value.
The Real Estate Photography Technician
The real estate photography technician is a professional usually offering his high-quality services at a low price. This type of photographer is ideal for a real estate broker who does not want to photograph the property for sale himself and is looking for a turnkey service.
The real estate photography technician uses a basic professional camera, such as a Canon Rebel, and a stable tripod. He does not use umbrellas, softboxes, reflectors or diffusers during the shoot.
In general, the technician uses HDRi (high dynamic range imaging) and will require the service of a company such as Exposio, an HDR technology company popularized by duproprio.com. Perfectly suited for this type of service, HDR is a simpler technique than the use of a flash.
The real estate photography technician aims for quantity; he generally takes several contracts in a day in order to make his professional activities profitable, especially since they are often offered at such a low price.
The time allotted for a shoot is calculated, and every minute counts. The technician will grant an average of 45 to 60 minutes per photo shoot. He photographs the rooms as they are, with little or no home staging.
According to our experience, photography technicians are the ones who move their schedule around the most. They move appointments more frequently than the other two categories of professional real estate photographers. If your hours are flexible, this should not be a problem.
Again, to make their work more profitable, technicians will not do touch up work (or only very little) before delivering the products to their customers. Basically, the quality is stable, and the result adequate for publication on real estate websites.
However, if you want to publish these photos in housing magazines, the photography technician's lack of artistic flair will be quickly noticed. This can reflect poorly on you, even to the eyes of the public.
In addition, if the listing represented by the real estate broker is luxurious, the customer-seller will not be impressed with the photographer's rushed execution and lack of high-end equipment. Professional real estate brokers know how image matters in their field of work. It's not just about getting decent photographs: It's about meeting the client's expectations in terms of attitude and professionalism.
How Much for the Services of a Real Estate Photography Technician?
24 is the magic number to compare one real estate photographer to another, as it is the number of photos that Centris® and REALTOR® (MLS®) demand to showcase a listing.
In Quebec, expect to pay between $70 and $100 for a turnkey session of 24 photos. This service is ideal for real estate brokers who do not want to do the job themselves and need 24 images to show on their real estate portals.
At this price, the return on investment when dealing with a real estate photography technician is positive, and the real estate broker has no interest in doing the work himself, although he could easily do so. The same goes for immersive virtual tours such as Matteport's. It is best for a real estate broker to hire a technician, thus allowing him to focus on his branding and successfully market a property rather than wasting time with a camera and photo editing software.
For a quick calculation, think that a shoot takes approximately 60 minutes, that the photographer will need about 30 minutes to edit and prepare the photos, and that his transit time will be of at least 30 minutes. Add to this the costs of equipment and image processing software's licence… That definitely justifies the average price of a real estate photography technician!
If it costs you more than $100, then you are probably paying for your real estate photography technician's reliability and reputation. Those are not factors to ignore! Manners and punctuality come with a price.
The Real Estate Artist Photographer
The Real Deal: The Photo Expert!
As the name of this category of real estate photographers implies, the real estate artist photographer… is an artist. He is passionate about architectural photography, and that's why he chose this profession foremost.
Just like any artist, he wants to make a living from his art, but will not base his decisions on money. Thus, the average time of a photo shoot will be longer—we're talking two or three hours.
Because he believes in quality before quantity, he will ensure that the property is shown in its best light. Each shot will be thought through and executed with the utmost care.
The real estate artist photographer masters his art. He will manually adjust photography settings like ISO, white balance, lens aperture, etc. He will use the right lenses to bring out the full potential of any room and environment.
Diehard artist photographers avoid using HDRi when taking photos. In fact, most of them do not like this method. "Exposio is for beginners," they say. They are well aware of the disadvantages of HDRi images, such as textural contrasts, issues with pure whites, and fuzziness caused by vibrations.
Actually, most artist photographers see HDRi as a technology overused by beginners; something that was useful back when computer screens and telephones were of such low quality that the pictures needed to be brightened up to truly shine. "HDRi images don't look real," they say. "They look like 3D drawings."
Photo Artists Are Back in Style…
Today, people are searching for the real deal. Pictures must be as close as possible to the room they depict—kitchen, living room, bedroom… They should not look glamourized, with color highlights and artificial brightness. With finesse, the real estate artist photographer can deliver an architectural photo true to its subject.
A photo artist can be recognized by his ability to convey emotions with the pictures he takes. No technician or immersive technology can do the same.
How Much for the Services of a Real Estate Artist Photographer?
The real estate artist photographer works with high-end equipment, often complex and expensive. Based on the property and its atmosphere, he will use umbrellas, softboxes, reflectors, and diffusers to make every color stand out. However, he might be such a master of his trade that all he needs is the flash of his camera.
In Quebec, you will pay between $150 to $300 for a 24-shot turnkey photo shoot. Although this service is ideal for high-end properties for sale, it can be a good fit for homes of any kind.
The Real Estate Hybrid Photographer
As you may have guessed, dealing with a hybrid photographer offers the best of both worlds because he shares characteristics with the photography technician and the artist photographer: He is reliable and meticulous, with an excellent reputation and an artistic approach, and that, for a fee not much higher than the one asked by a photography technician.
How Much for the Services of a Real Estate Hybrid Photographer?
The price charged by a real estate hybrid photographer for a 24-shot session should range from $100 to $150.
Where Can You Find a Good Real Estate Photographer?
The best way to find any type of real estate photographer is through a platform like Marketplace Centris®. A platform like this makes it easier to compare several visual content providers based on packages defined by the system.
With Centris® Marketplace, you can compare real estate photographers' plans, take a quick look at their well-organized portfolio, and read notes and comments left by real estate brokers who have used their services before.
How to Evaluate the Work of a Real Estate Photographer?
Real estate photography is booming and attracting more and more enthusiasts. There is no licence, certification or accreditation required to become a real estate photographer.
Photo technology providers such as Exposio even mention on their website that just about anyone can do it! Therefore, anyone can claim to be a real estate photographer.
Although there are photography programs in many educational institutions in Quebec, most real estate photographers learn "by doing."
So how can you tell if your photographer is a true professional? Here are some basic criteria to look for when you receive your photographs; by knowing these, it will be easier to determine the quality of your real estate photographer's work!
How Sharp Is the Image: That Says a Lot About Your Real Estate Photographer!
One criterion that will help you judge your photographer's work is the image sharpness; a blurry picture means that it was taken out of focus or caused by a vibration (an involuntary movement of the photographer at the time of release).
Yes, the quality of the photographer's tripod can make a difference, but a blur is more likely to be caused by his attention, or lack thereof, for unexpected movements when triggering the camera. A photographer rushing to wrap up the job is definitely more likely to take fuzzy photos…
Of course, anyone can make a mistake! However, a true professional values quality way too much to allow himself to deliver blurry pictures. That's the difference!
Proper Lighting and Dark Areas
A devoted real estate photographer knows the different techniques to highlight a room. Good photos are the result of good lighting, and low-light areas should be processed until they look smooth and natural, true to reality.
If you're looking at a picture and have to squint, it is not normal! Talk to your photographer immediately, or get a new one!
Colour Contrast
Another Way to Highlight the Surroundings and Create Shiny Blue Skies!
A professional real estate photographer loves color contrasts. For this reason, he will always retouch the house's facade on outdoor pictures to make the blue sky pop out, or even better: He will turn a cloudy day into a sunny one!

A striking difference! The picture on the right should "sell" more than the one on the left, don't you think?
If the sky looks cloudy on your front house pictures, you should tell your real estate photographer. He has the equipment and the basic knowledge to brighten up a gloomy day. If he tells you that there's nothing he can do about it, then you need another photographer!
A photographer will use a special software like Photoshop, Lightroom CC, GIMP, ACDSee Pro or Corel Paintshop, just to name a few, in order to add more colour contrast or to make the sky brighter. If you can "feel" the contrast between the colors, it means that the photographer succeeded on this point.
However, if the colors are pale and bland, ask your photographer for alterations!
White Balance
All About White Balance: Greyish or Yellowish Whites Should Never Be
You're looking at a photo and wondering why the white appears bluish or yellowish. It looked perfect at the time of the picture! Well, that is because the human eye naturally adjusts the white balance, as if by magic.
The reason behind this phenomenon is very simple: Normally, the naked eye does not perceive the different "temperatures" of light, and will thus make whites whiter. The camera does not have this ability. It needs the help of a real estate photographer to understand how it should treat the different shades of white.
An amateur photographer might not adjust the white balance, but any self-respecting professional will. If you receive photos with bluish or yellowish whites (anything but pure, bright whites, to put it simply), it means that he does not understand this concept, which really is basic knowledge.

Photo without white balance vs photo with white balance
Backlighting: The Sworn Enemy of Real Estate Photography
Using HDRi, flash, a good angle, or any other suitable technique, the photographer has to eliminate backlighting—the result of outdoor light pouring into a room (through a window, for example). Backlighting can darken a room, something that should be avoided.

Photo with backlighting vs photo without backlighting
Good Framing Means Good Photography
Framing should be aesthetically pleasing and give as much information as possible about the room in question.
For example, if your photographer shoots the master bedroom of a property for sale by focusing on the bed, the result will read more like "bed for sale on Kijiji" than real estate photography, which should instead highlight the size of the room, the fenestration…
Same goes for a smaller room—the bathroom, for example. Why photograph the washer and dryer? A professional should be able to choose the right lens. Believe it or not, the image below was actually taken by a so-called real estate photographer…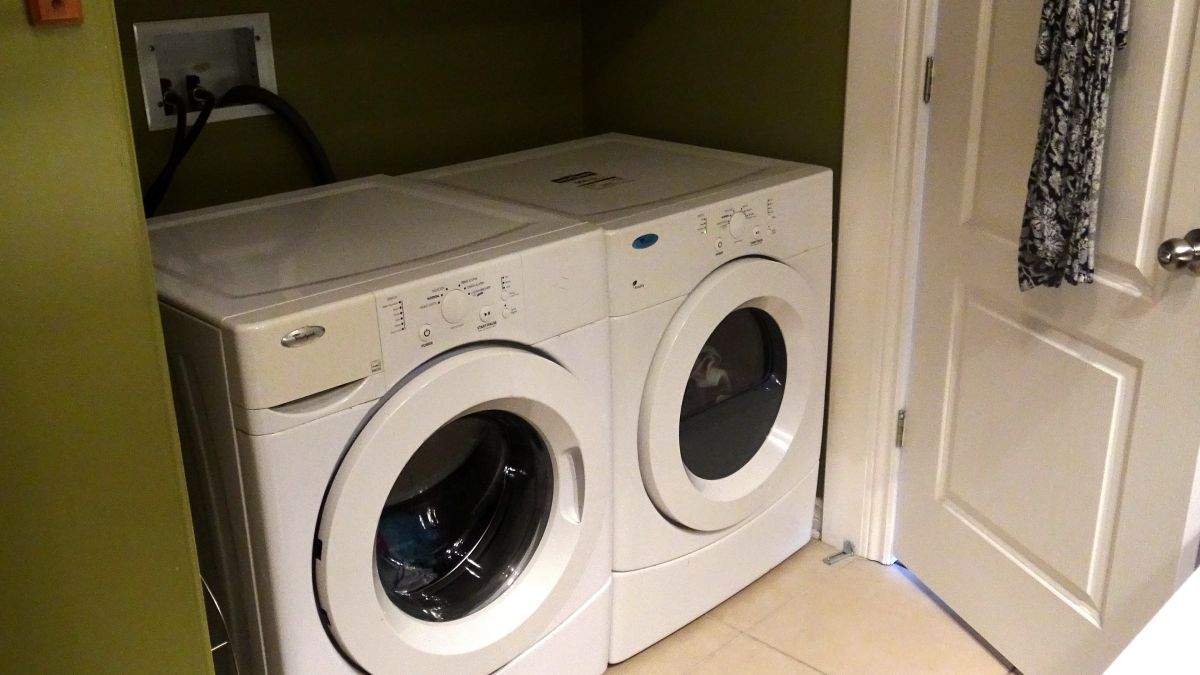 Is this an advertisement for a washing machine? Well, no. It was taken by a so-called real estate photographer!
And, unless the ceiling is a selling argument (cathedral ceiling, attic, skylights, decorative moldings, etc.), it should not take over more than one-third of the photo. A real estate photographer should make sure to shoot the room as a whole.
Last but not least: Horizontal and vertical lines must be straight. If the ceiling looks crooked or the floor not leveled, the photo will not "sell" so well!
Pictures With Distorting Effect
A fisheye lens (with wide-angle) is normally reserved for virtual tours. The use of a fisheye lens will often distort an image, misrepresent a room. Do you think that your real estate photographer's shoots look distorted? He might have used the wrong lens… Next time, hire another photographer!
Light Reflection on Pictures
Shadows and reflections do not belong in real estate photography. For example, a halo might appear where the natural light hit the lens, or a luminous spot could show on a wall if the flash was not diffused properly. The photographer's equipment (or himself) could show in a mirror as well. A real estate photographer should be able to retouch any type of reflection from a picture.
But let's be realistic: If he is photographing a room covered with full-height mirrors, his reflection is unavoidable!
Misuse of ISO
A good real estate photographer knows which ISO to use according to the brightness of the room. ISO is a way to measure light sensitivity on digital cameras. The higher the ISO, the more sensitive to light the sensor becomes. A high ISO is convenient in dark places but, if not used properly, it will set the colors ablaze, like what happened in this very bad bathroom picture…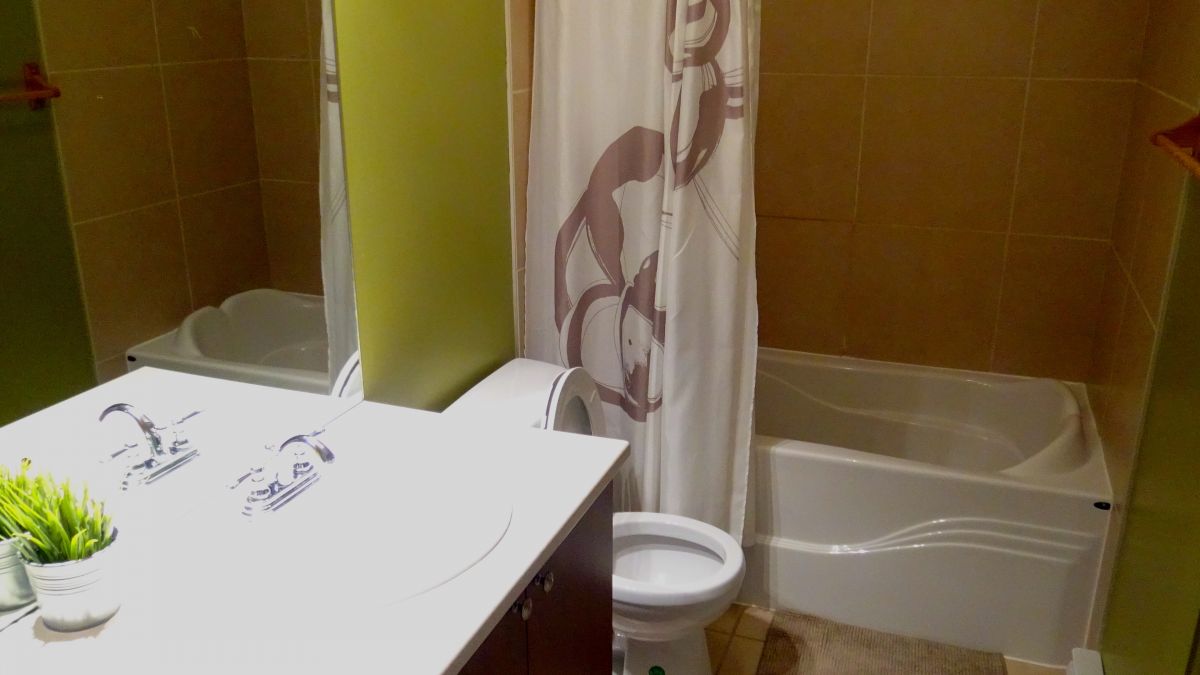 This photo is horrible: Bad ISO, the toilet lid is up, etc.
Good Habits Practised by Real Estate Photographers
A thorough, professional real estate photographer is always looking for photo opportunities; he has an eye for details and knows the tools of the trade. For example, a professional real estate photographer will open all the curtains and turn the lights on in every room; he will not forget to close the toilet lid before photographing a bathroom. He will close the closet doors unless there is a tidy walk-in closet worth photographing. Details matter in real estate photographer quality!
The Cost of Copyright
If a Real Estate Broker Hires a Photographer, Who Owns the Pictures?
Even when the work of a freelancing real estate photographer is paid (work made for hire), a user agreement must be signed to grant the rights to the client (the real estate broker), who will then be able to publish the photos for advertising purposes in the sale of the property.
If no user agreement has been signed, the photographer (copyright holder) can reproduce the photos, use them to other ends, distribute and resell them, and display them to the public.
In other words, he can do as he pleases. And be aware that an order or invoice is not a copyright agreement, even if these documents make reference to the subject!
Shouldn't Copyrights Belong to the Client (The Real Estate Broker)?
The reason why they don't is very simple: In the spring of 2012, the Copyright Modernization Act was amended by Bill C-11. Before that, the rights for real estate photographs belonged to the client (the real estate broker). The law now gives ownership to the photographer, even if the real estate broker paid for his services.
If a Photographer Agrees to Give Copyright to the Real Estate Broker, Does That Increase the Price of His Services?
If a real estate photographer does not want to give you the rights to his photos, it is probably because he wants, among other things, to benefit from them later. Consequently, you should pay him less than a real estate photographer willing to transfer his copyrights.
That said, real estate photographers are well aware of your expectations, and they know what you want to do with the pictures. Copyrights should, therefore, be included in their services, not raise their value. You will still need to sign a user agreement though.
What Should Be Included in a User Agreement?
The agreement should include, but not be limited to, the following:
Holder: Are you working with a real estate photography agency? If so, make sure that the agency actually has the rights to sell you the photos shot by its photographers, both employees, and freelancers. You may also ask to get a look at the agreement between the agency and the photographers since, technically, they are the ones who own the rights to the photos, unless they have a signed arrangement over the matter.
Photo use: Make sure that there is no limitation on how you can use the photos: Sales, advertising, promotions… Also, verify if you can use both digital and print formats.
Payments and royalties: Protect yourself! Does the agreement say if the only royalty you will pay to the photographer is that of the cost for the service? Some real estate photographers might actually ask you to pay additional royalties, for example for using their photos after a period of time. As a real estate broker, you are already spending a lot just marketing your listings before actually selling them and collecting your money; it is better not to have to pay "surprise" royalties over the use of visual content!
Duration and exclusivity: It is better to get a perpetual and exclusive licence, which will allow you to use the images for X days (for the duration of your brokerage contract and its renewal, for example). Exclusivity will prevent the photographer from selling the images to your clients or other real estate brokers if you do not renew your brokerage contract. If possible, do not allow the photographer to use the photos for self-promotion purposes without your permission (on his website, for example).
Want to avoid an angry call from your client, asking why his bedroom pictures (and those of his wedding, framed on the bedroom walls!) are now on the homepage of a real estate agency or photographer's website? Make sure that you have exclusive use of the photos!
Photo modification: Make sure that the photographer gives you the moral rights as well: This will allow you to edit the images, and if necessary, put your name on them. The photographer will not be able to ask you to add his signature to the images if your listing goes viral online…
That being said, most real estate photographers are well-intentioned and do not want to make things difficult for their client. However, it is always wiser to avoid unnecessary worries and misunderstandings by making things crystal clear (and to write them down too!) A user agreement is highly recommended!
So, do you pay too much for your real estate photographer?
Real Estate NewsLetter
Subscribe to our real estate newsletter. Simply enter your email below and click "Subscribe": You can unsubscribe at anytime.