There Is No Way You Can Resist This Saint-Nicolas House, Especially Not After Having Seen Its Backyard!
This article is also available in:
French
A magnificent house awaits you in the popular, quiet and peaceful district of Boisé du Saint-Laurent
A magnificent house awaits you in the popular, quiet and peaceful district of Boisé du Saint-Laurent
A true gem on the market, this property for sale will steal your heart!
Not only does it offer an unparalleled interior, but also a dream backyard. Who is feeling lucky?
Less than 30 minutes away from Sainte-Foy, this house will be a true case of love at first sight, and this, as soon as you lay your eyes on its attractive stone facade… And you have not seen the beautiful backyard yet!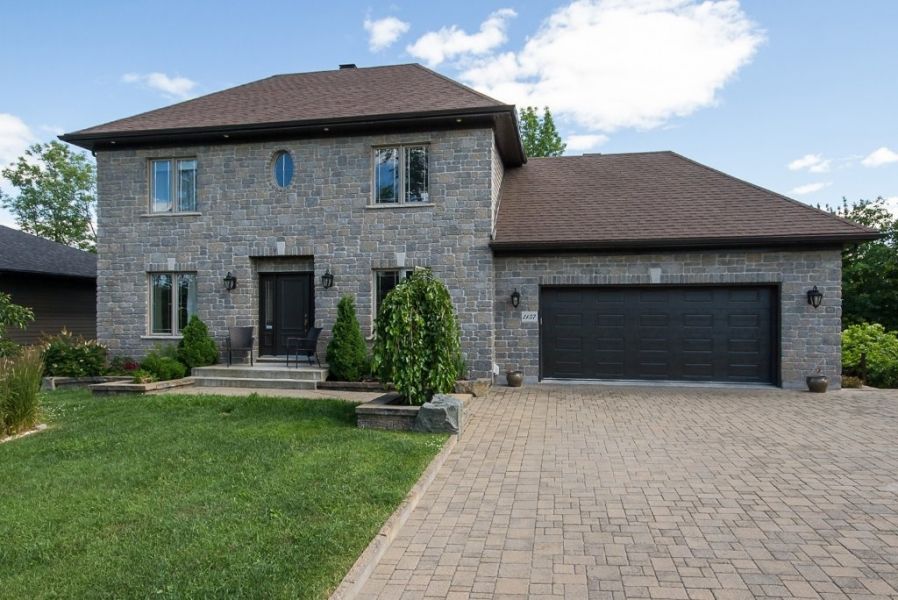 The Entry Hall
As practical as inviting, the lobby is sure to please you! The closet will be perfect for storing boots and coats, and the beautiful marbled ceramic adds a touch of luxury to the decor…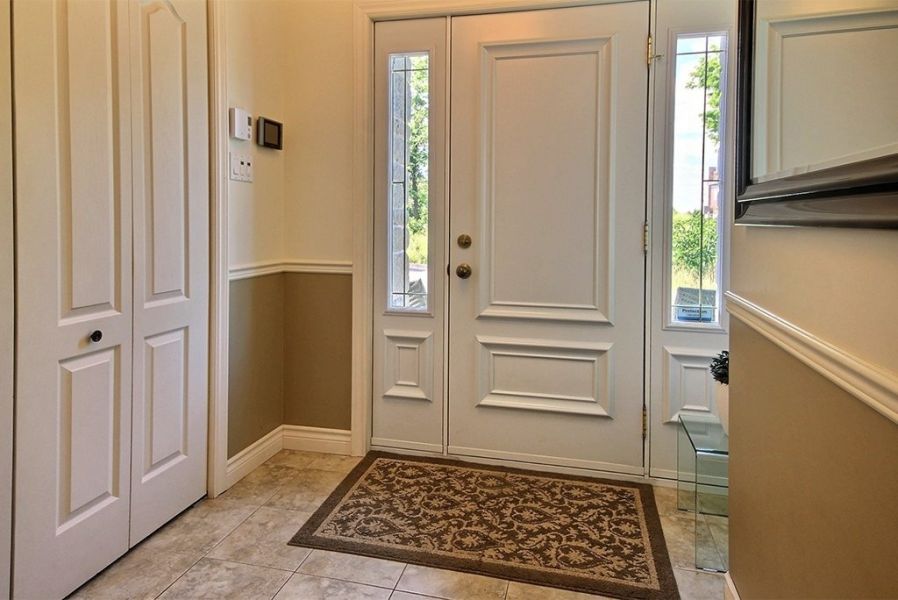 This beautiful Lévis home, built in 2010, offers new homeowners a safe, state-of-the-art living space; You will have the possibility to add automation technology to alarm system that is already installed… Great!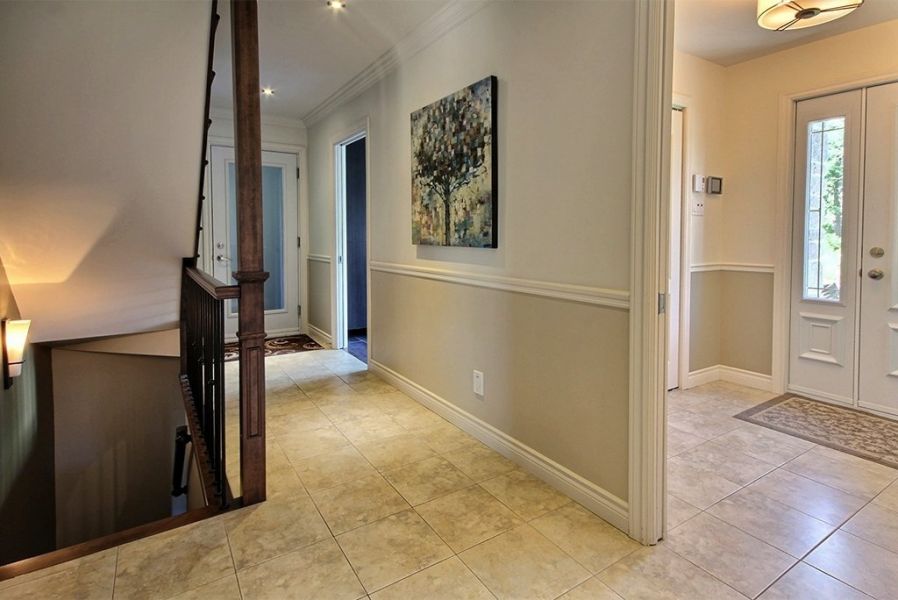 The Living Room
Let there be light… or not! During the day, open the curtains to let the light in, and close them in the evening to create a cozy atmosphere with the recessed lights…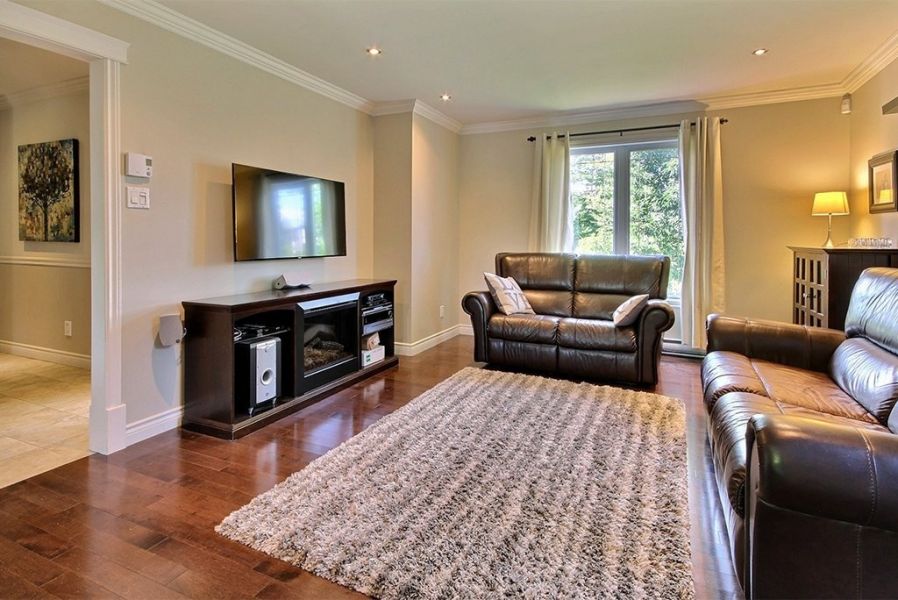 Note the beautiful wooden floor: Present in the living room and the dining room, it is highlighted by the beautiful natural light that pours in through the windows…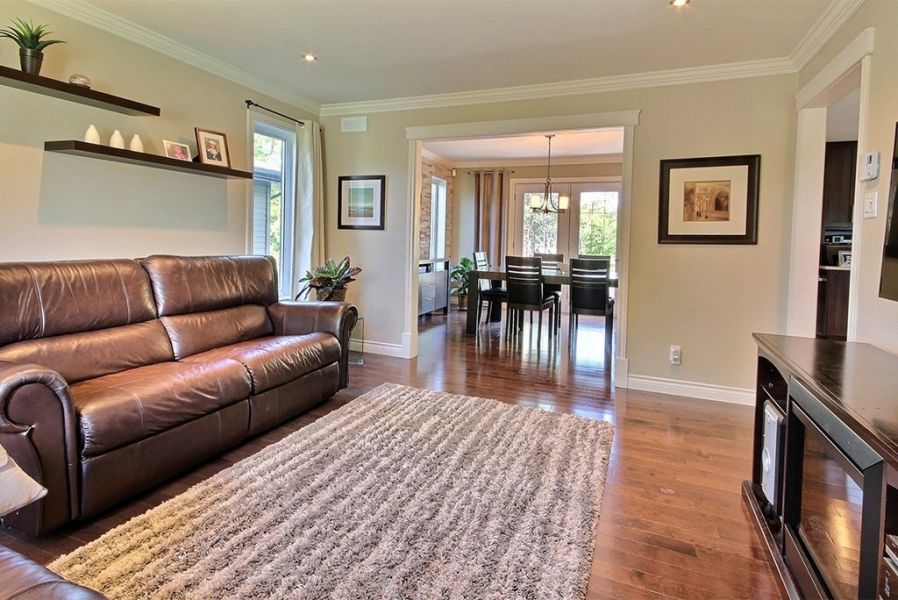 The Dining Room
The architectural details present in every room of this house for sale are far from being its selling point… From the elegant dining room, you can access the balcony (covering a surface of over 675 square feet!) that leads to the gorgeous backyard! But be patient… Let's continue our visit and save the best for last!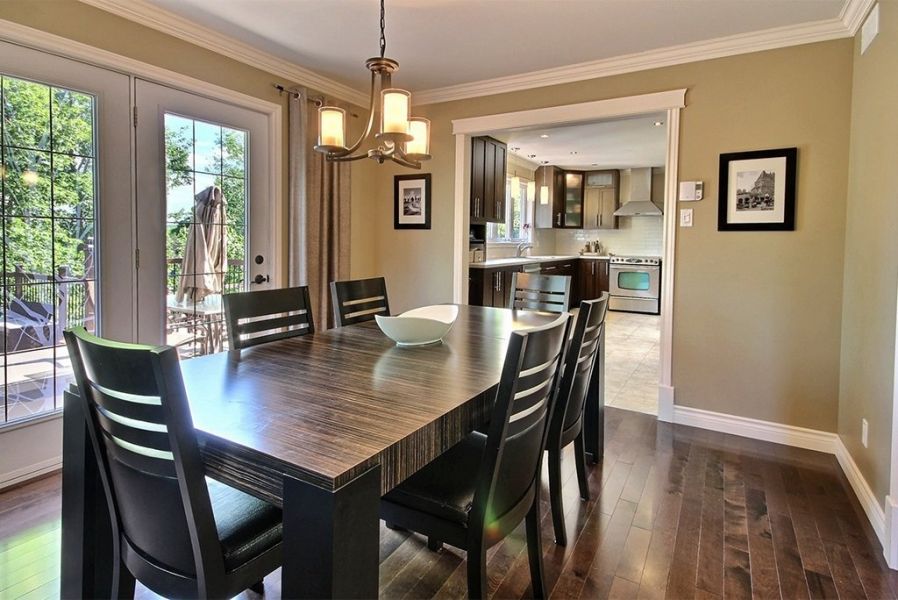 You'll be proud to receive your guest in this ultra-chic room!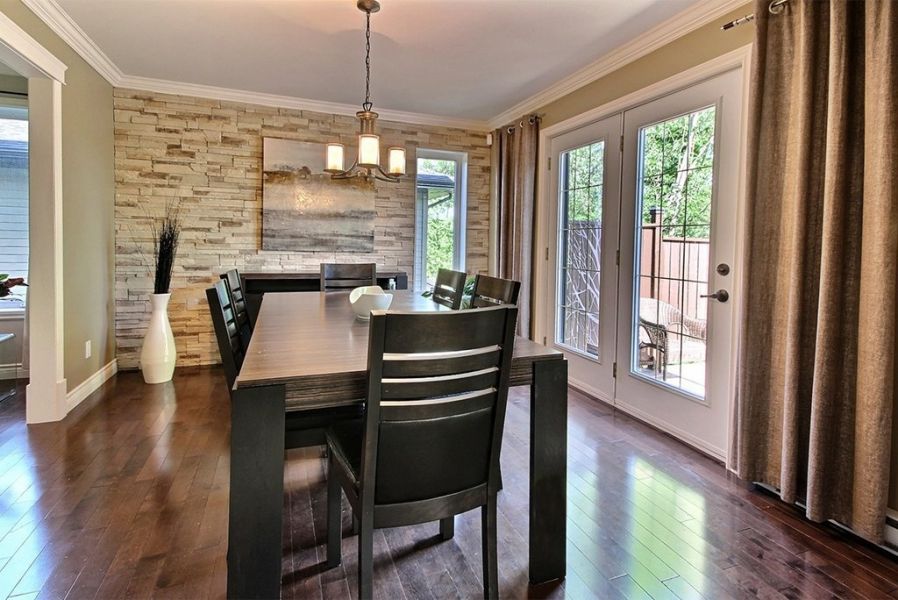 The Kitchen
Who said that cooking was a chore? Awake your inner masterchef by acquiring this property! Countless cabinets, huge worktop, bright backsplash that matches the cupboard's warm brown hue… What else can you ask for?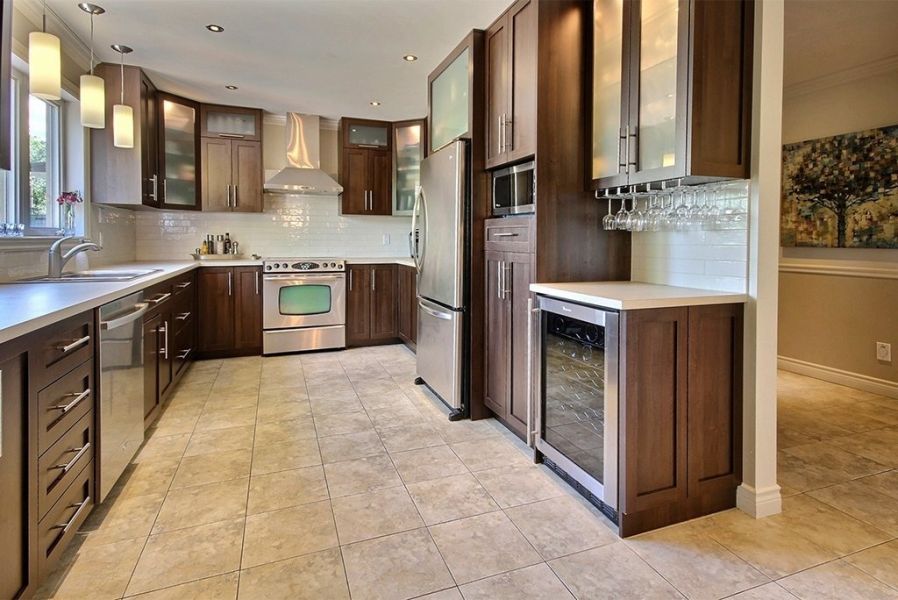 The Powder Room
A pretty powder room with washer and dryer facilities is also located on the ground floor. Convenient!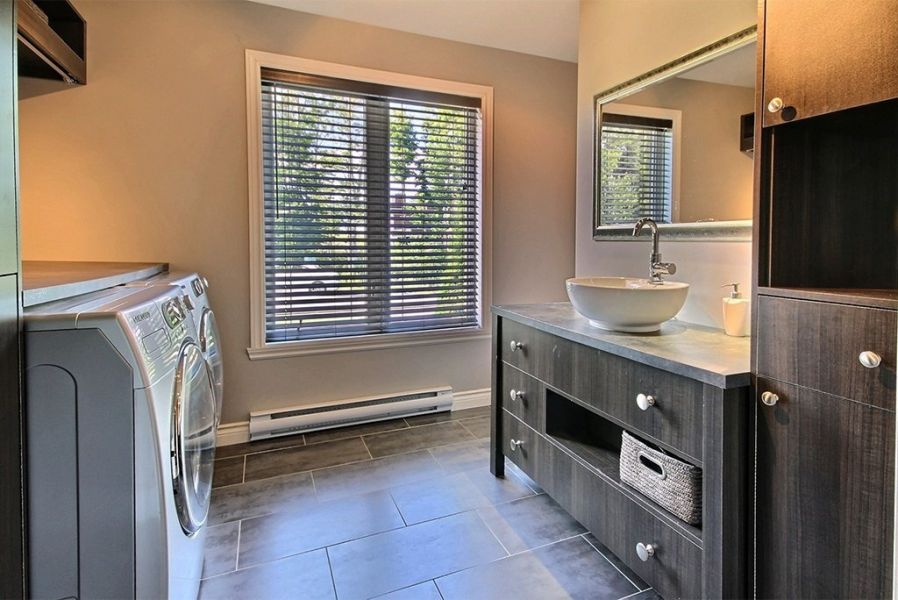 The Bedrooms
Like all ground-floor rooms, the master bedroom is superbly lit! Its beautiful stone wall and walk-in closet will delight you…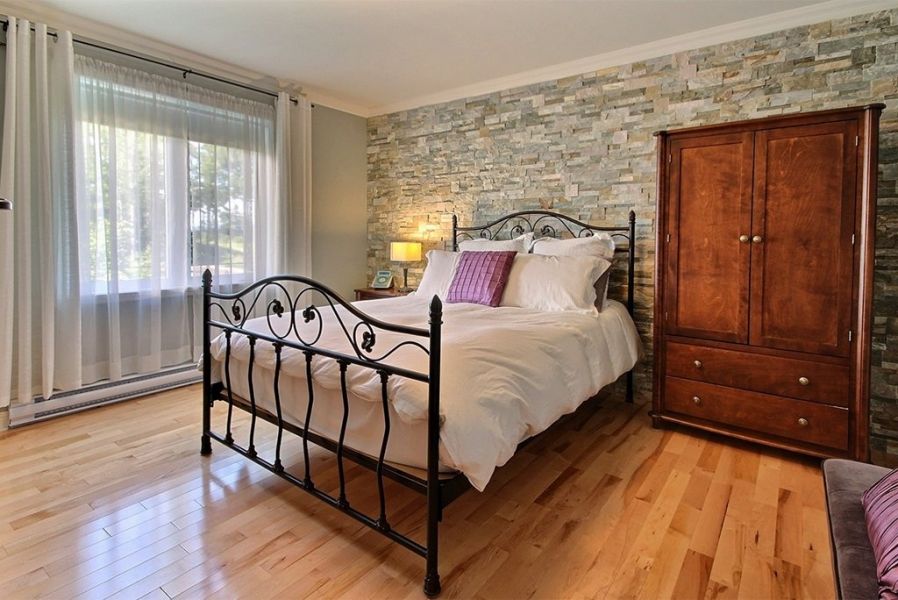 You will find four bedrooms on this floor. A fifth bedroom could also be set up in the basement gym. Space to spare!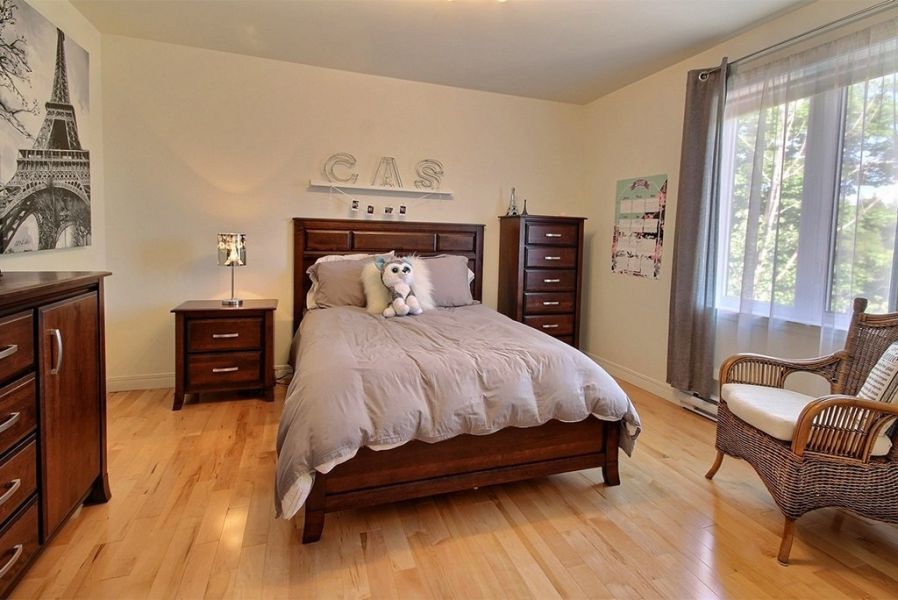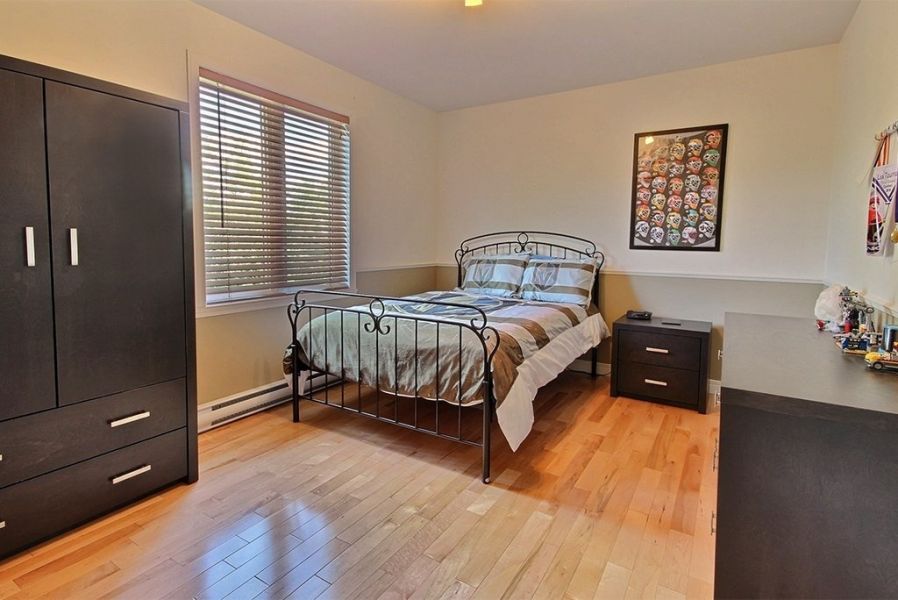 The Bathroom
The beauty of this bathroom with a walk-in shower will leave you speechless…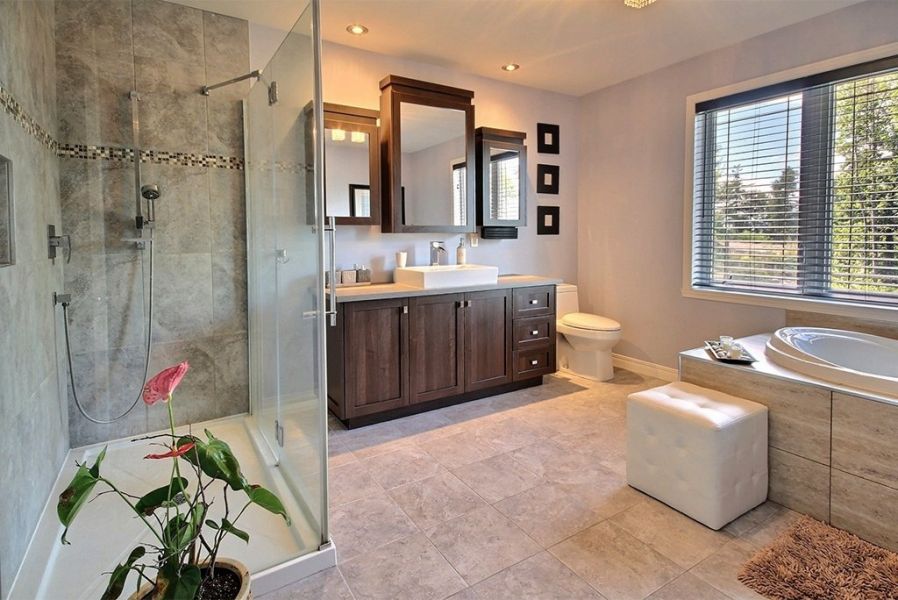 … And so will the deep built-on bathtub and the vanity with plenty of storage space!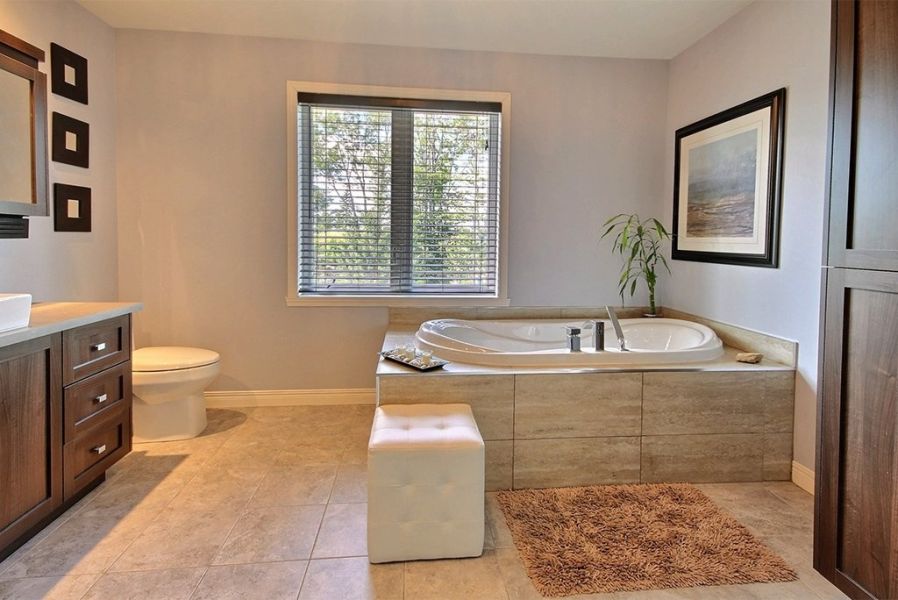 The Basement
Family movie nights will be a smash in this huge family room!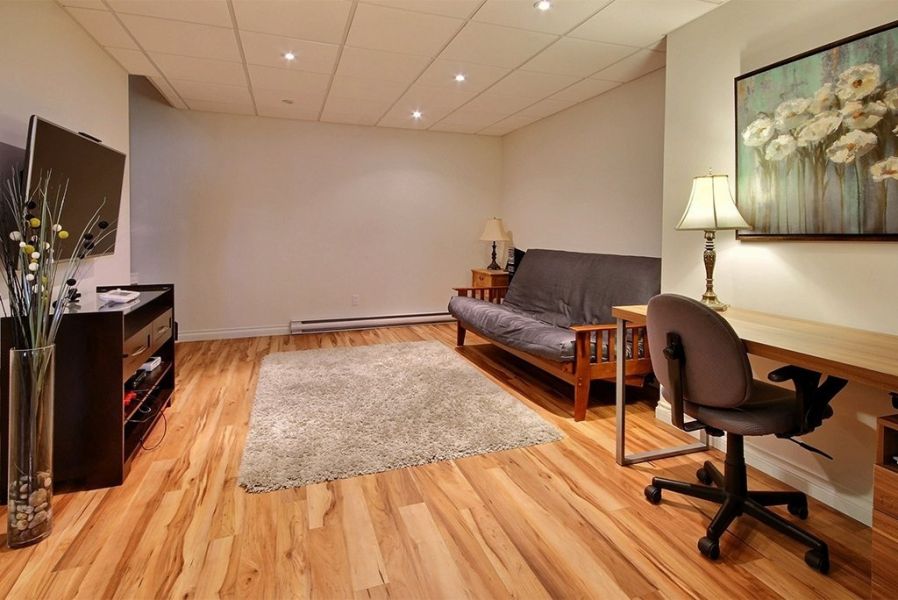 Will you also use this room as a private gym? You won't have to worry about staying fit anymore!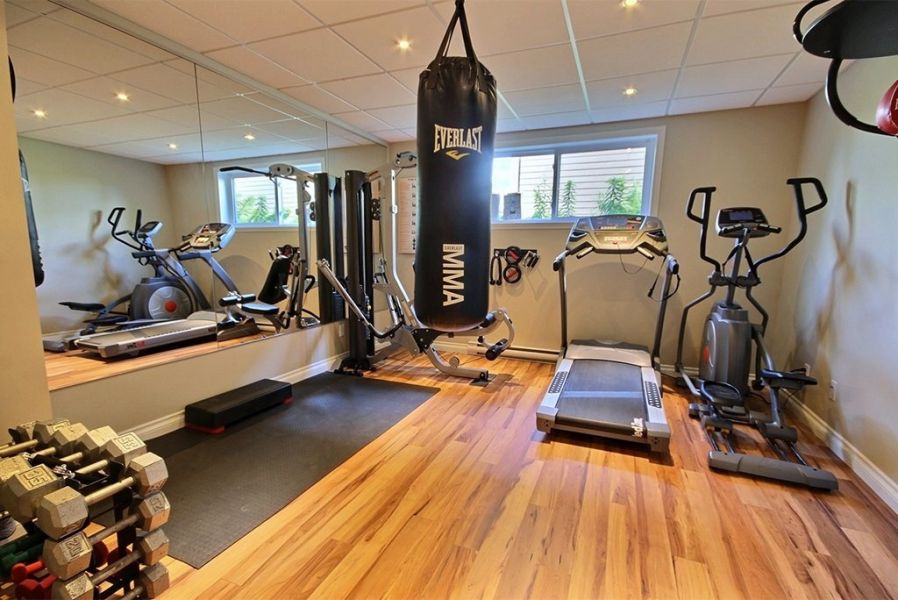 A second bathroom with an independent shower is located in the basement.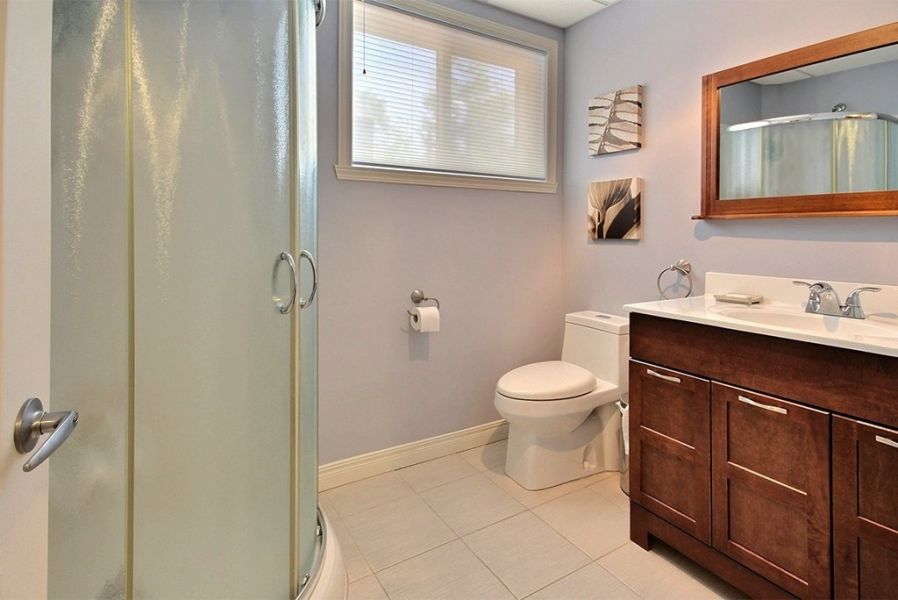 The Backyard
Who would want to stay inside with a backyard like that? Landscaped to perfection with the help of an engineer, it is surrounded by several trees and shrubs. The back neighbouring house is located much lower, providing you with a lot of privacy!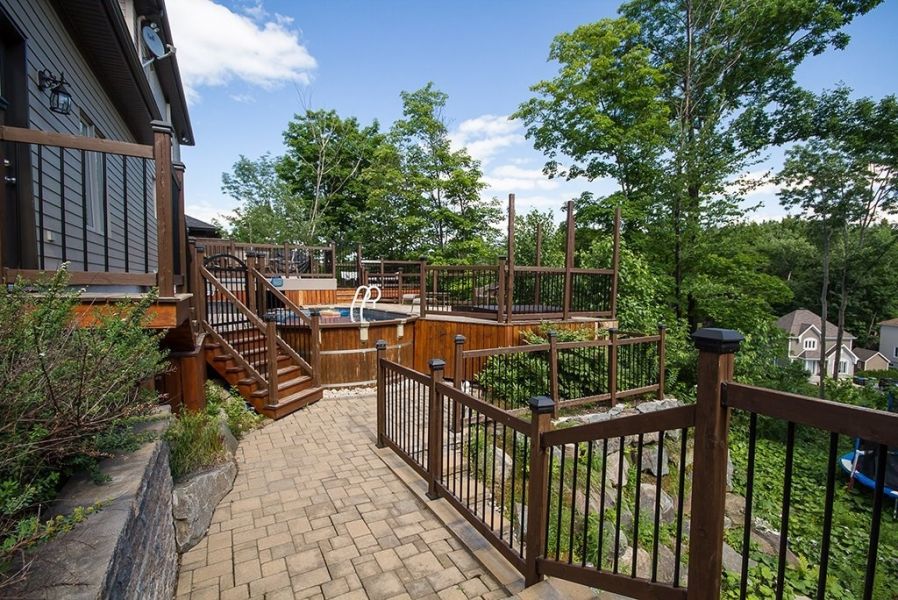 Spa, heated pool, storage space… Memorable summer parties in sight!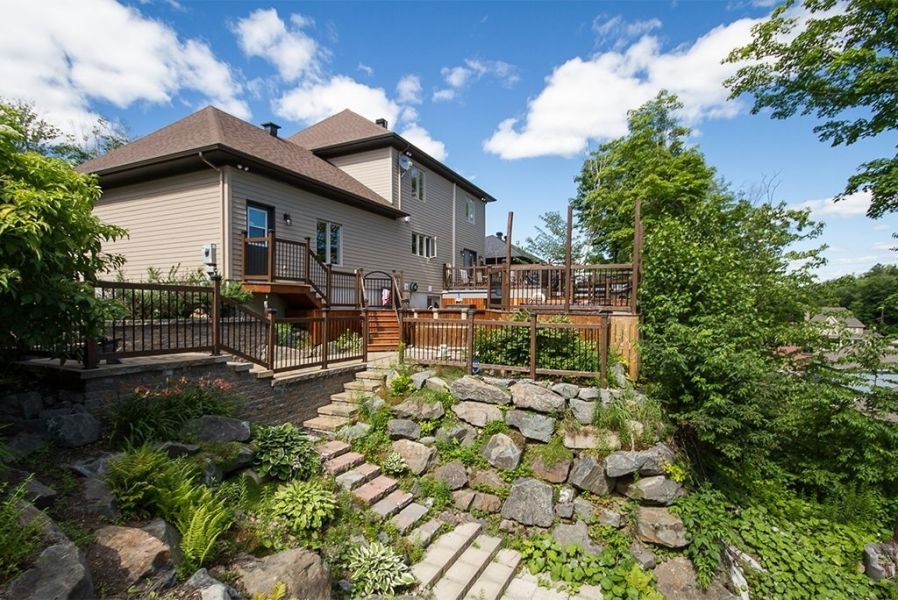 This aerial view will make you appreciate the backyard in all its splendour. One word: "wow! ". From the terrace, you can even see part of the river…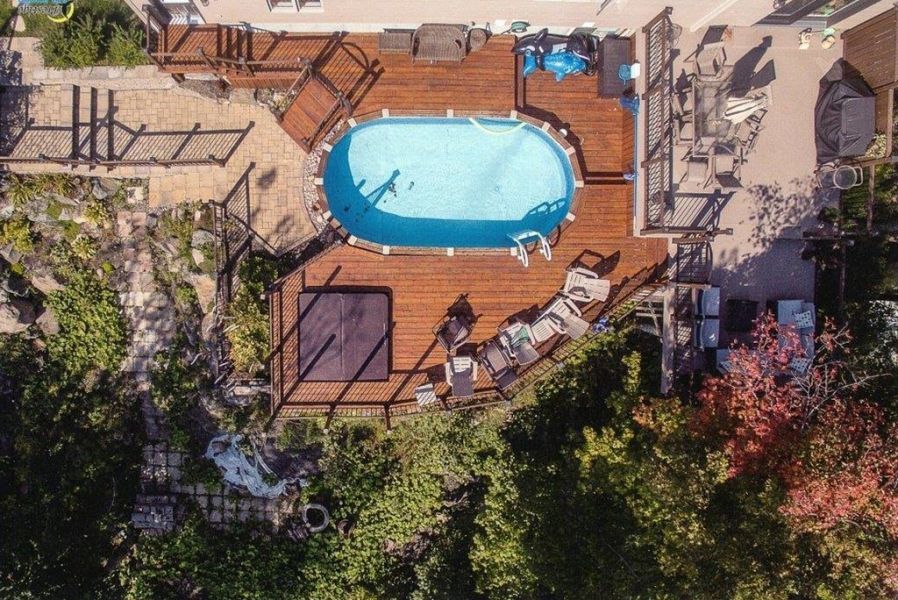 This privileged area, the Boisé du Saint-Laurent, is located on the banks of the St. Lawrence River. Popular with young families, it offers many parks and daycares, many just minutes away from this property for sale. You will be surprised by how quiet this neighbourhood is; despite the fact that it's only a ten-minute drive to the highway, you can't hear the traffic at all!
Located in 1157 Des Saisons Street, Saint-Nicolas, this beautiful property could be yours for $539,000. To learn more, read its technical sheet (listing #27491688) and contact Michel Gingras, real estate broker at Re/Max Avantages.