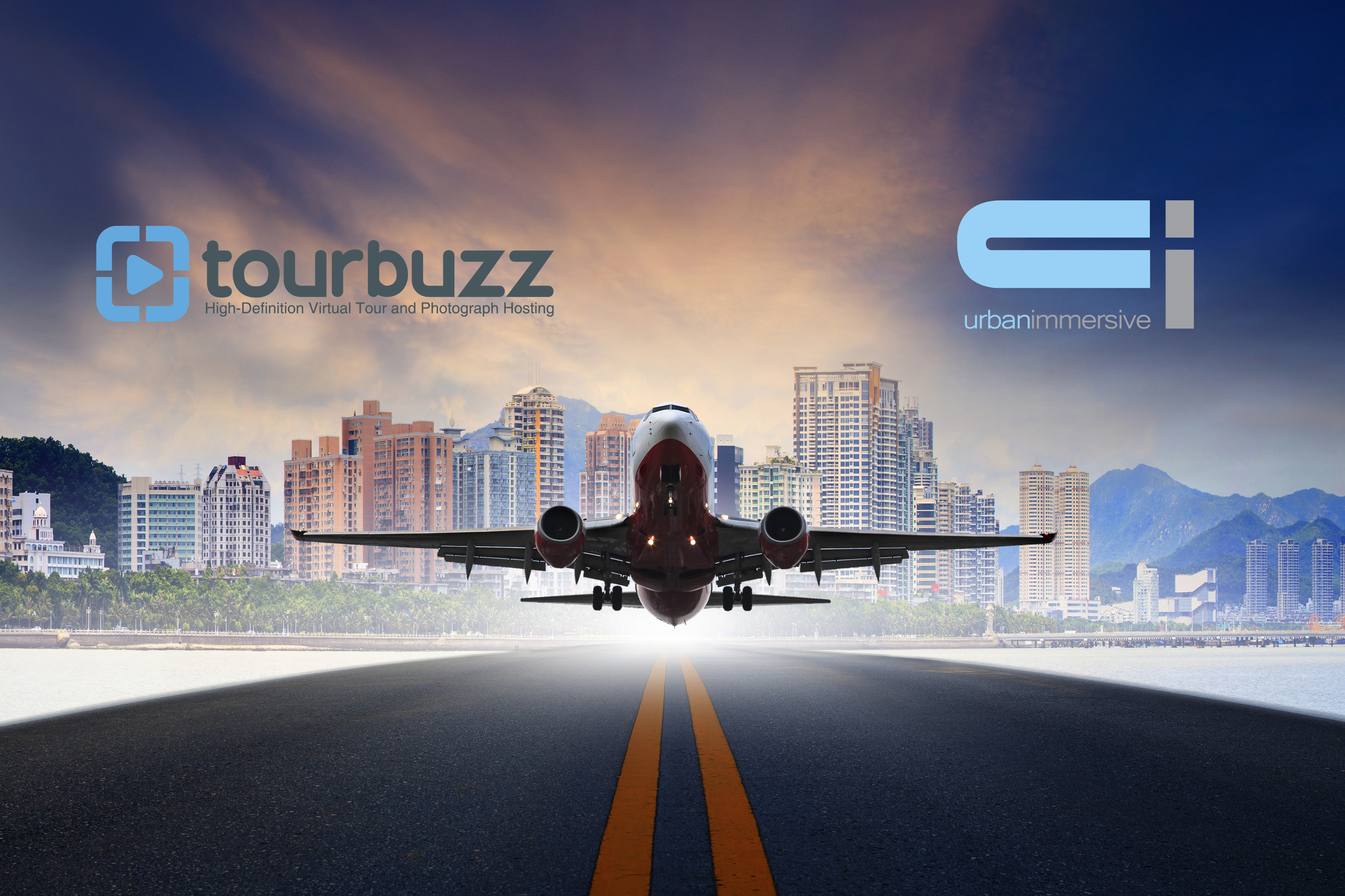 Date Online: 2018-12-04
It has been a very exciting year for Tourbuzz and Urbanimmersive. After an exhaustive 9-month effort and negotiation, the completed acquisition of Tourbuzz by Urbanimmersive was finalized and announced in September, setting the stage for incredible things to come.
The effort and changes that have gone in to this process are immense, and it is not without the service of everyone that we would have been able to reach this milestone. With great understanding and appreciation for the work that Tourbuzz has done over the past 10 years, we would like to share with everyone that Alan Pinstein officially transitioned out of the organization as of November 20th. We are incredibly grateful for his contributions and the foundation for success that has been built with our customers. We wish him great success in his future endeavours.
Now, as we move towards our new future, we want to share more information about the company, our mission, and what is in store.
Urbanimmersive is a Canadian publicly traded company based in Québec (TSX-V:UI.V). We began our operation in 2007 first providing proprietary immersive slideshow technology to photographers. Since inception, we have scaled our portfolio of products and services with a vision of how the real estate photography business will evolve.
As a result, we are proud to have become the only company currently offering a content marketing platform where real estate photographers work in teams with professional writers to deliver the next generation of tours; home description blog content articles. We are motivated and excited for the future, and have been fortunate enough to experience tremendous growth over the last year. This has been in no small part related to the success and growth our photographers have seen using our content marketing platform.
One key element of this success is our fully integrated business solution (CRM) offering unmatched services and features to improve photographer productivity including:
Calendar synchronization
Check-In/Check-Out time controls
Job management
Customizable job status
Service area management
Communications, notifications & internal note management
Estimate generation and management
Invoicing & online payments
Batch monthly billing capabilities
Recurring invoice automation
Account receivables & line of credit management
Pre-selection for image editing
Photographer payouts
Self-service client portal
Copyrights management
And more
In addition, we are excited to introduce new markets and nations to our online marketplace. Within this advanced and interactive directory, agents will not only be able to see photographer information, they will have the ability to book shoots based on real-time availability, prices, and service areas. The marketplace has been selected by one of the largest real estate organizations in Canada (Centris) representing 14,000 agents. Continued partnerships will allow us to offer the new business opportunities that are essential to our customer's continued growth.
In being able to offer such an extensive set of features, we believe we have the most robust and advanced photographer CRM on the market.
Our solution is used today by photographers of all sizes and can support and scale with every business to promote growth and increase opportunity. We are an experienced and tested platform as our largest customer is efficiently processing nearly 20,000 shoots per year through the CRM.
We have been fortunate enough to have had the opportunity to preview the new systems with a handful of current Tourbuzz photographers. The positive response has been overwhelming and encouraging. We look forward to continued progress during this transition and the opportunity to give everyone the chance to benefit from this extensive suite of products that will be provided at no additional ongoing charge to all Tourbuzz photographers.
While these changes are exciting, some things will always be a constant. Our photographers have come to expect a level of service and support as Tourbuzz customers. That will not change.
The quality of the service that we offer, and dedication to the success of every business partner, will only increase as a result of a team that can serve the the market with more tools at their disposal. Additionally, If they so choose, photographers will be able to use Tourbuzz as a stand-alone application. We will continue to invest in the Tourbuzz design creator and, as always, will offer competitive and exciting options to capture the beauty in every photo by professionally showcasing the work of our affiliates. Additionally, we will be offering enhanced services to create custom designed tours for those who wish to differentiate their business from other photographers and competing tour platforms.
The current Tourbuzz fee structure will not change, but customers will have access to a host of additional benefits. For each tour, users will be able to create a blog content description of the home for sale. The blog about the home will then be automatically posted on our growing international real estate blog content portal. This means that customers will essentially be receiving 2 tours for the price of one; a visual tour and a written content piece to enhance the web presence of every property. Photographer's agents will also be able to take advantage of our content marketing platform to boost their visibility on social media platforms while receiving on-demand proofreading, writing, revision, and translation services.
For invested photographers looking to further explore the business of providing home description blog content, we have developed a unique and exclusive affiliate program.
This program provides more services to represented agents and creates recurring revenue streams for photographers. Affiliates will be able to resell turn key blog web pages and website syndication tools in order for agents to automatically get their blog content shared to their own personal web site, Tourbuzz tour, and social media. The affiliate program also provides automatic proofreading and content enhancement before publication. That is what we call « working in teams » with professional writers.
Our affiliate opportunity will also provide access to our immersive slideshow technology, which offers the opportunity to create unique and highly engaging 3D articles. Immersive slideshows are inserted into written blog content and emulate 3D environments using only high quality HDR still pictures. On top of providing an increased per article viewing time, immersive slideshows represent a good trade off for agents not ready to pay for a real immersive environment. Producing immersive slideshows is easy, extremely cost-effective, does not require special equipment or post-production time, and has no hosting fees.
We are passionate about the business growth of our customers, and providing every opportunity to be successful is our mission. In pursuit of this goal, we are dedicated to seeking out partners that will continue to enhance the overall experience and bring everyday value.
We would like to take this opportunity to announce the signature of a non-exclusive agreement with PhotoUp, the industry leader in real estate photo editing services. Under this agreement, photographers using Urbanimmersive's business solution will soon benefit from a seamless integration with PhotoUp editing services. Full integration is scheduled for the end of March 2019, but our clients can already take advantage of the special pricing packages offered by PhotoUp to Urbanimmersive/Tourbuzz photographers. Our goal is to simplify every process and put more profitable hours back in the day.
We are also excited to announce that we have recently signed an image data feed agreement with Zillow. This option will provide our photographers the ability to upload photos directly to the Zillow portal in order to increase visibility and add value to every listing.
Since the joining of forces in September, both teams are working hard to integrate their respective products, services, market data, support, and business models. We will be ready to start implementing our business solution with our first Tourbuzz customers as soon as January 2019. Meanwhile, we encourage interested professionals to learn more about what our content marketing platform and enhanced features can offer by reaching out to our team. We are now booking a limited amount of advanced implementation and training sessions for those who wish to take advantage of these features on our launch date.
Urbanimmersive has always been dedicated to serving our customers and exceeding their expectations every day with our deeply anchored philosophy of "customer first". In being committed to that goal, we are so excited to share with the world what is to come and continue to grow with user needs in mind.
We strongly believe that our content marketing solutions will redefine the display and promotion of properties. The new year has incredible things in store and we invite everyone to join us is in exploring a new future.