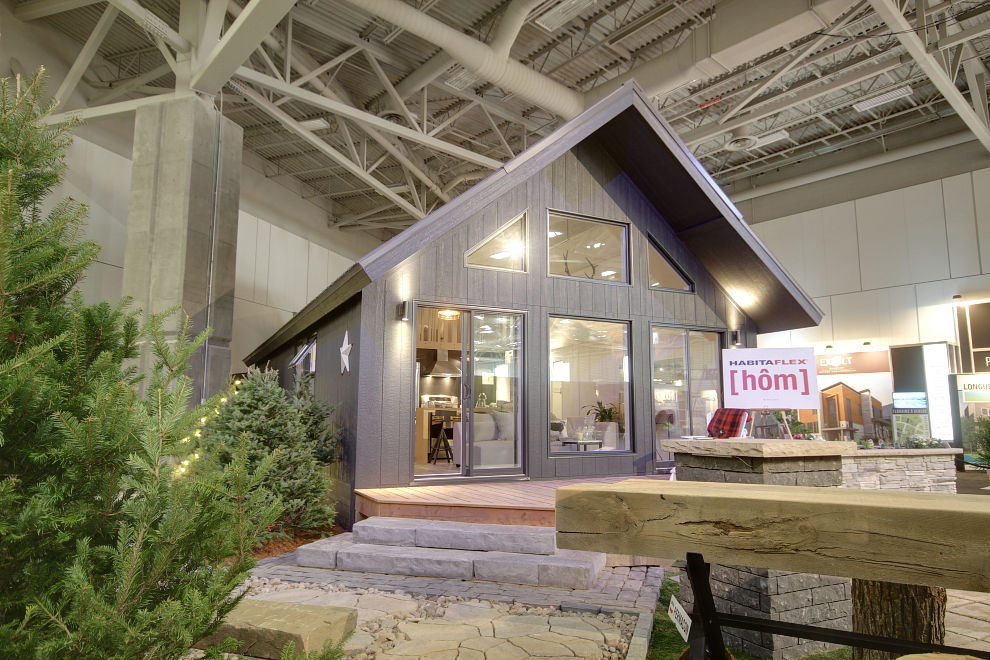 Date Online: 2018-02-02
Here is the Habitaflex [hôm], a house that is installed in just two days on your land!
How is it possible? Simply because this house is completely prefabricated in the factory and all the mechanical aspects, such as plumbing, electricity, and ventilation, are also preinstalled…
In addition, it is not mandatory that this house is installed on a foundation; insulated from the ceiling to the floor, this Quebec product is the ideal choice if you want to buy a chalet!
Note: all the images presented in this article are immersive. Click on an image to change your point of view. On your mobile phone, slide your finger across the image to navigate.
Habitaflex [hôm] also has other advantages. The interior has been designed to maximize space and the presence of brightness. The divisions of this house, and especially the arrangement of the two corridors located on each side of the home, offer the possibility of opting for an ideal perimeter fenestration to enjoy the beautiful weather and natural light.
The interior of the Habitaflex [hôm] invites to decoration. Here, the designers were inspired by the Scandinavian style. They opted for neutral colors and there is a beautiful association between wood, white, gray and black.
Rustic and industrial furniture and accessories such as stools and chest of drawers have been chosen. Here, we do not look for color punch. On the contrary, the decor and accessories are in the same colours as the coverings. A perfect strategy to dress a small space!
This multifunctional room is very interesting! The mezzanine provides a great optimization of space.
Habitaflex [hôm] is undoubtedly a real estate product that needs to be known! For more information, visit https://www.habitaflex.com.
---
Want to order an immersive blog content like this one? Visit book.urbanimmersive.com.
---