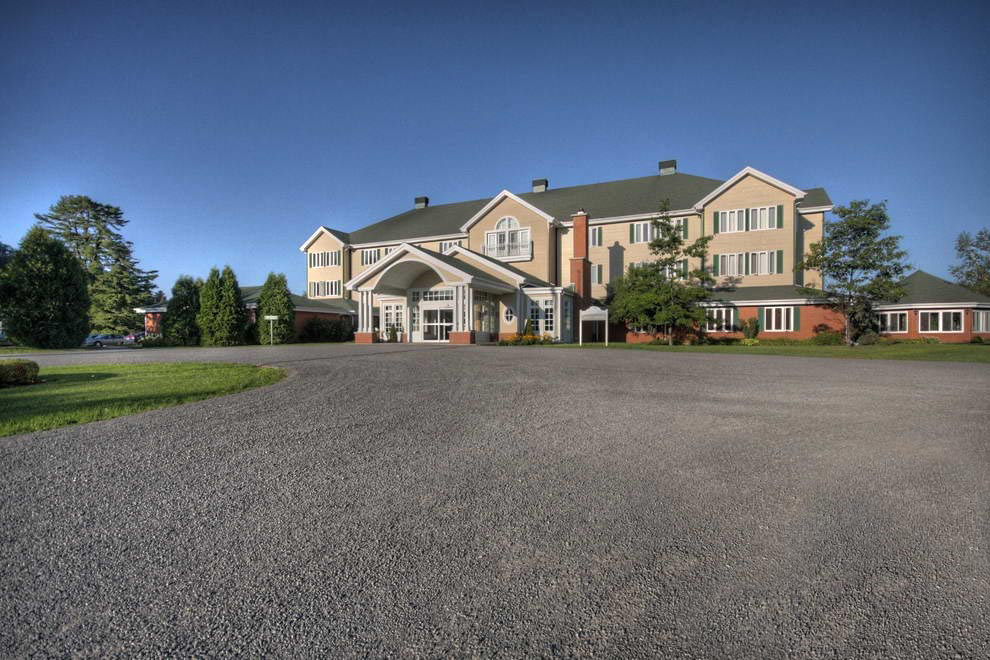 Date Online: 2018-02-09
You will not be able to resist the attractions of this exceptional hotel establishment!
A unique place to recharge your batteries and enjoy nature in all its splendor; Auberge du Lac-à-l'Eau-Claire offers its visitors a host of activities, regardless of the season.
Whether you are looking for a relaxing holiday with your sweetheart, or a family vacation for a few days, L'Auberge du Lac-à-l'Eau-Claire will enchant you! Rural landscape, delectable gastronomic delights, outdoor activities for the enjoyment of the whole family, relaxation treatments… Everything is here to ensure an unforgettable stay!
Take the time to virtually visit this exceptional resort…
The entry hall
The large lobby is waiting to welcome you when you visit the place… Spacious and inviting, it has a nice rest area where you can enjoy a fire.
The Dining Room
Space to spare! The large dining room is divided into several sections, allowing you to choose a table from where you can admire the panoramic view of the lake…
The Relaxation Area
You will like to gather in this corner which is adjacent to the dining room to enjoy an aperitif! With its comfortable armchairs, bar area and beautiful fireplace, this place exudes charm! In addition, a pool table is at your disposal… What more could you ask for?
An enchanting site!
A variety of activities are available to you! Water sports (pedalo, rowboat, kayak or pontoon rental!), hiking, quad biking, cross-country skiing, snowshoeing, dog sledding, tube sliding, ice fishing, ice skating, snowmobiling … and more! The site of the Auberge du Lac-à-l'Eau-Claire, which covers more than 2500 hectares, promises to please all nature lovers!
The rooms of the Auberge (standard)
The central point of the Auberge du Lac-à-l'Eau-Claire's site, the main building, offers 15 regular rooms. Warm rooms with a very modern look, they will surpass your expectations!
The Inn rooms (luxury)
Want to enjoy a little more comfort? Why not book a luxury room! Spacious, these eight rooms have a comfortable relaxation area. Four of these rooms have a large bathroom with a large glass-walled shower and a freestanding bath. The best!
The Pavilion
The rooms of the pavilion will meet the needs of people looking for tranquility and comfort, all in a setting both chic and rural…
The Lake
Rent a boat and discover this beautiful lake or rest in the sun on the beach… In winter, go tease the trout with the fishing huts that are available!
The Indoor Pool
The dimensions of this indoor pool will surprise you! Semi-Olympic size and surrounded by beautiful copper palm trees, this pool has a paddling pool for your children.
Do not hesitate to contact the friendly staff at the Auberge du Lac-à-l'Eau-Claire to find out more about all this incredible resort!