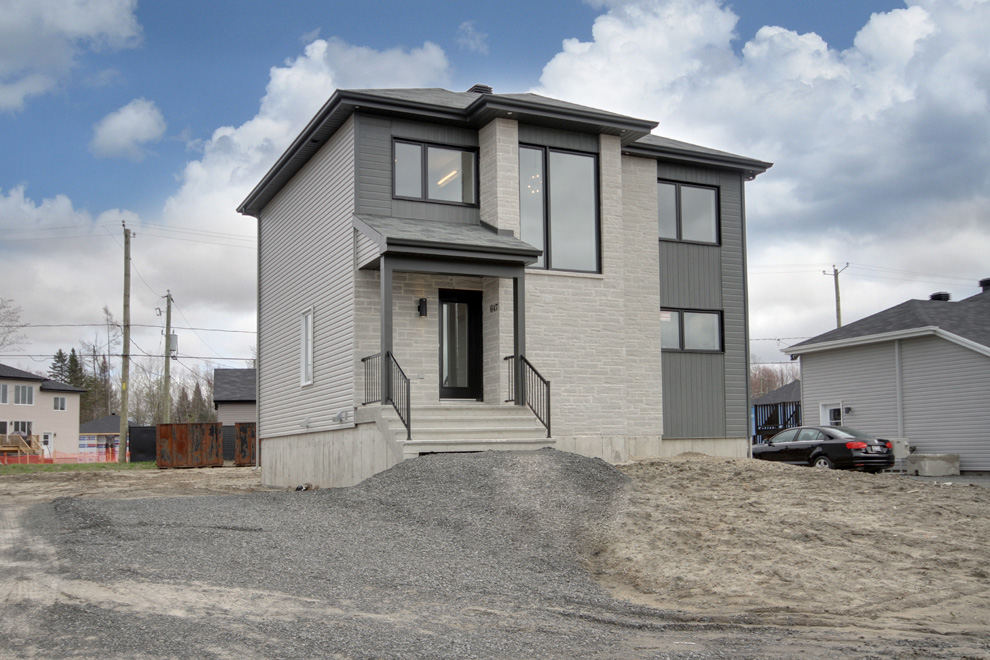 Date Online: 2018-02-12
This contemporary style house offers an airy and bright living space.
With a living space of more than 1752 square feet, it has all the necessary qualities to become your new dream home ...
The entry hall
You'll love this house as soon as you set foot inside! The large entrance hall with a chic ceramic floor and a large double wardrobe give you a taste of what this magnificent house has to offer.
The bathroom and the laundry room
From the entrance hall, take a few steps to your left to discover a pretty bathroom and a practical laundry room ...
The open area
A real favorite for those that love the beautiful open area model, The Lynx signed Les Constructions Auger-Ouelette! Composed of the living room, the dining room, and the kitchen, this open area is endowed with exceptional brightness! You will especially like the modern kitchen with a huge island ...
The bedrooms
Climbing the beautiful staircase made of natural cherry wood, you will notice the large window that lets in a lot of natural light. Once on the second floor, you will discover three bedrooms. Why not set up one of the bedrooms as a nice office space? A living space that adapts perfectly to your needs!
The bathroom
The pretty bathroom has a large freestanding acrylic shower with glass walls (38 '' x 38 ''!) and a bathtub. An ideal place to relax after a busy day!
The terrace
The rear terrace made of treated wood (8 'x 8') will entice you when the warm summer weather returns!
Visit the Les Constructions Auger-Ouellette website to learn more about the Lynx! You will find all the details of its construction and will be able to consult floor plans.