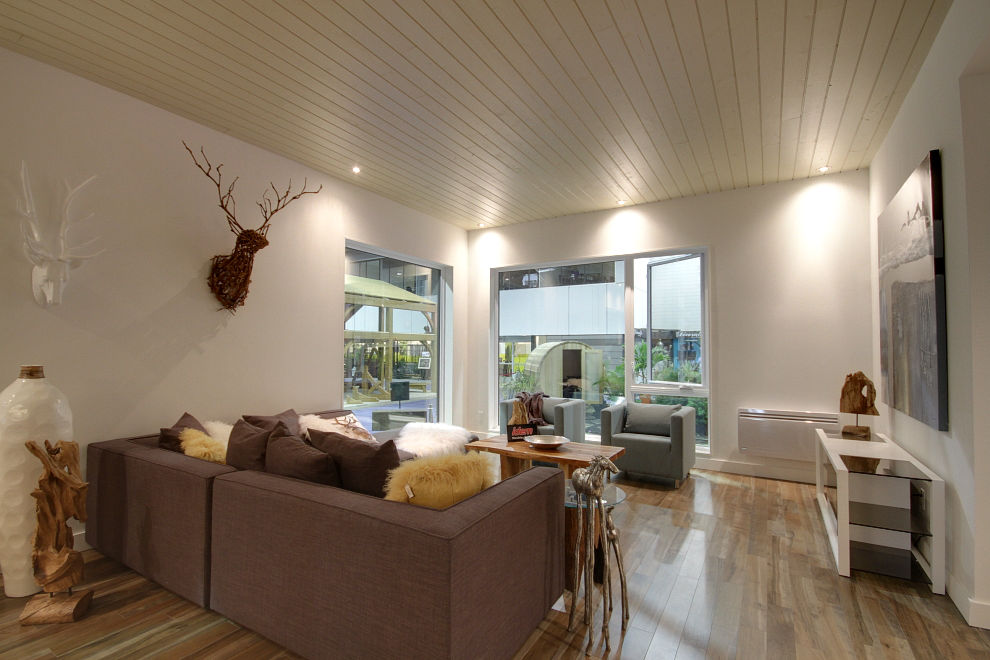 Date Online: 2018-02-27
What if you could live in a house that conveys the feeling of being at the cottage?
The Onyx model from Bonneville Homes brilliantly recreates this feeling while offering you a living space adapted to the realities of today. One visit and you will be enchanted!
Behind the facade, an unparalleled living space!
Do not be fooled by the simplicity of Bonneville Homes' Onyx model architecture ... you will discover a breathtaking living space with high wood ceilings, lots of windows and a look that manages to perfectly imitate the charm of a cottage. Who would suspect that the living space of this model house is 1575 square feet?
An ideal common area for sharing unforgettable moments!
An ideal house model to create a beautiful synergy between its occupants! The vast open area, composed of the living room, the dining room, and the kitchen exudes ambiance! All members of the family will love to gather!
A kitchen holding more than one trick in its bag!
Is this not kitchen you've always dreamed of? With a trendy look, it will allow its occupants to cook tasty food without any difficulty! Did you notice the glass panel partition? It can be opened at your convenience, to the pleasure of all! In addition, the island that separates the kitchen from the outdoor terrace has a sliding counter! Add some stools and that's it! A lounge atmosphere is created! An outdoor terrace perfect to receive family and friends for memorable BBQ afternoons ... And as it is covered (with motorized solar panels), it is possible to enjoy it in good weather and bad! No need to fear rain clouds! What could be better?
The bedrooms
The Bonneville Homes Onyx model offers two bedrooms. One of them has a patio door that leads to the pretty outdoor terrace ...
The bathroom
And what about the bathroom? One word: "bellissime! ".
The terrace
Clicking on the arrow to advance into the immersive tour will open the deck partition and slide the countertop out. Great, isn't it?
In the Onyx model, you will find the high luminosity characteristic of all Bonneville Homes models in a contemporary style and will discover a cabin-like living space while offering its occupants the comfort and functionality needed for everyone's style of living.