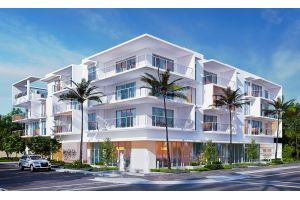 Date Online: 2016-12-01
Situé à plus ou moins un kilomètre de la plage de Lake Worth en Floride, le projet The One, de SunDream Investment, rassemble à lui seul tous les éléments pour vivre dans un condo de rêve...
Qui ne rêve pas d'acquérir un condo là où le soleil et la chaleur sont au rendez-vous, et ce, près de 365 jours par année? Voilà une offre alléchante pour tous ceux qui sont à la recherche d'un condo luxueux! Chacune de ces unités sur le marché du projet The One est construite avec des matériaux d'une qualité exemplaire et vaut vraiment la peine d'être visitée. À découvrir!
Être propriétaire de l'une des unités de condo du projet The One, c'est vivre la vie comme elle devait être vécue... La terrasse sur le toit comprend un spa thérapeutique, des chaises longues pour vous relaxer un peu et une cuisine d'été dotée d'un BBQ et même d'un réfrigérateur prévu spécialement pour y déposer vos bonnes bouteilles que vous ouvrirez lors d'une soirée agréable en compagnie des membres de votre famille et d'amis!
Référence: www.urbanimmersive.com
Toutes les unités de condo ont une terrasse d'une superficie supérieure, accessible par les deux portes-fenêtres (au salon et dans la chambre principale) qui apportent énormément de luminosité à l'ensemble la superficie.
Référence: www.urbanimmersive.com
Les unités ont une superficie entre 1031 et 1384 pieds carrés, avec le choix d'une ou de deux chambres ainsi que d'une ou deux salles de bain. Le comptoir de quartz et les armoires de la cuisine peuvent être personnalisés selon votre goût.

The One, c'est un bâtiment à usage mixte de 14 unités de condo en plein cœur du comté de Palm Beach. Avec plusieurs terrains de golf, des boutiques éclectiques, de grands parcs, le théâtre Lake Worth Playhouse, des restaurants de renom et un des endroits reconnus pour la pêche au long cours à proximité, les condos de ce projet, disponibles à l'automne 2017, vont certainement s'envoler comme des petits pains chauds!