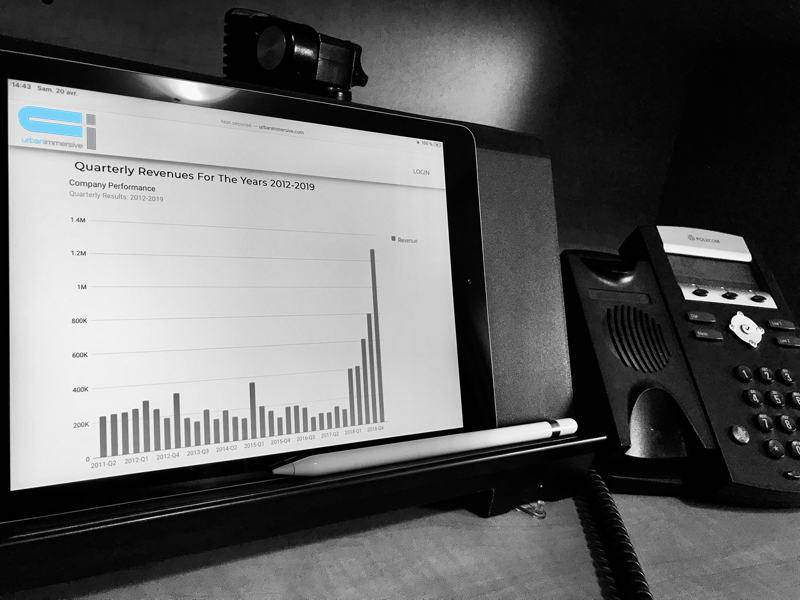 Date Online: 2019-04-20
INVESTOR -> What does Urbanimmersive do and why should I be interested?
CEO -> We are providing a SAAS (Service as a Software) Enterprise Solution to SMB (Small and Medium Businesses). Our solution helps those businesses get more productive and competitive in their market.
INVESTOR -> Oh! SaaS Entreprise Solutions is a very crowded field? How do you expect to win market share?
CEO -> We're targeting a niche and unoccupied market segment, real estate visual content merchants. Those merchants are photographers, visual tour providers, aerial photography and 3D artists serving real estate agents and home builders.
INVESTOR -> A niche market could be indeed a good strategy but it seems a pretty small market to interest investors! How do you expect to bring growth in such a small segment?
CEO -> First, with the digital advertising quality standards growing, the world-wide real estate visual content merchants market segment is organically growing by double digits year after year. Merchants who are rapidly growing need an Entreprise Solution specifically designed for their services. To date, we have the most complete Entreprise Solution for them.
Second, our SaaS Entreprise Solution enables merchants to up-sell their services with a growing number of integrated products and services such as ; single property web sites, writing services, Facebook and Google Advertising, lead generation tools, etc.
INVESTOR -> That's interesting. But does it work? Does your merchants really resell those services?
CEO -> It is starting to work like we envisioned it. Keep in mind that visual content merchants are offering their services to real estate agents and home builders who are spending multi-billions dollars in advertising year after year. If we continue to succeed like we do right now, through our merchants, we will tap into one of the largest advertising segment in the industry; real estate.
Our vision is that photographers, who are an essential piece of real estate marketing will become the main hubs of all advertising products and services real estate agents and home builders can buy.
INVESTOR -> OK. I get it. You are targeting a niche market to tap into the advertising spending of the real estate industry. It seems quite a big challenge for you guys to bring growth in the short term though. It will take years before we see the results!
CEO -> It would have been, but we have positioned our company in a way to capitalize immediately on these opportunities. Last year, we have successfully acquired and integrated the largest real estate visual content merchants single web site solution in North America. This strategic position is already accelerating our SaaS Entreprise adoption.
INVESTOR -> Did you get already some interests from those merchants for your solution since the acquisition. Are they willing to resell your new products and services through your Entreprise Solution?
CEO -> Yes. Top merchants, who are often multi-million-dollar businesses have stated loud and clear their interest for our SaaS solution and the products and services they can resell with it.
INVESTOR -> How fast they can start using your Saas and start reselling with it. It seems also to me a big challenge?
CEO -> That is indeed one of our biggest challenges we have, decreasing our Saas implementation time. But we are getting better every day on this. The quicker we can get them up and running, the quicker we will bring growth. So this is our main priority.
INVESTOR -> Let's talk about your financials. You are burning a lot of cash. Will you have the time to reach your goal or you will go back to the market to raise more money?
CEO -> The cash we have burned during the previous years has been serving us to developing and testing the most complete SaaS for this market segment. We have such a market edge right now in terms of technology assets! The cash we have burned during the last quarters has been mostly linked to the acquisition.
With the operational cost synergies linked to the acquisition that we have announced in some press releases already, it has bring us in a much more better situation in terms of cashflow. At this point, as we have told at our last AGM, we do not expect to back to the market to raise money.
INVESTOR -> So you are cashflow positive?
CEO -> Until the financial numbers will go out, I will only answer that we have the cash we need to run our business.
INVESTOR -> Fair enough! So now, let's talk about your debt! Man! It's massive!!!
CEO -> All depend of the angle you want to see it. This debt is the leverage to accelerate our growth as it's linked to the acquisition of Tourbuzz.
INVESTOR -> Got it! But it is still a large amount of interest to pay. That brings dilution and affects your cashflow.
CEO -> In our plan, this is a short-term situation. We believe our growth will enable us to handle interest payment and payment the debt. On the other hand, our story is starting to gain attention and new alternatives are coming to us right now that make us believe we could get better terms on our debt. We continue to explore all our options and we believe our continued growth and financials will create great opportunities for us.
INVESTOR -> Interesting. I will certainly start looking your stock more closely.
CEO -> You can go on our new web site to get more information. Don't forget to subscribe to our newsletter and tell your investor fellow to to the same.