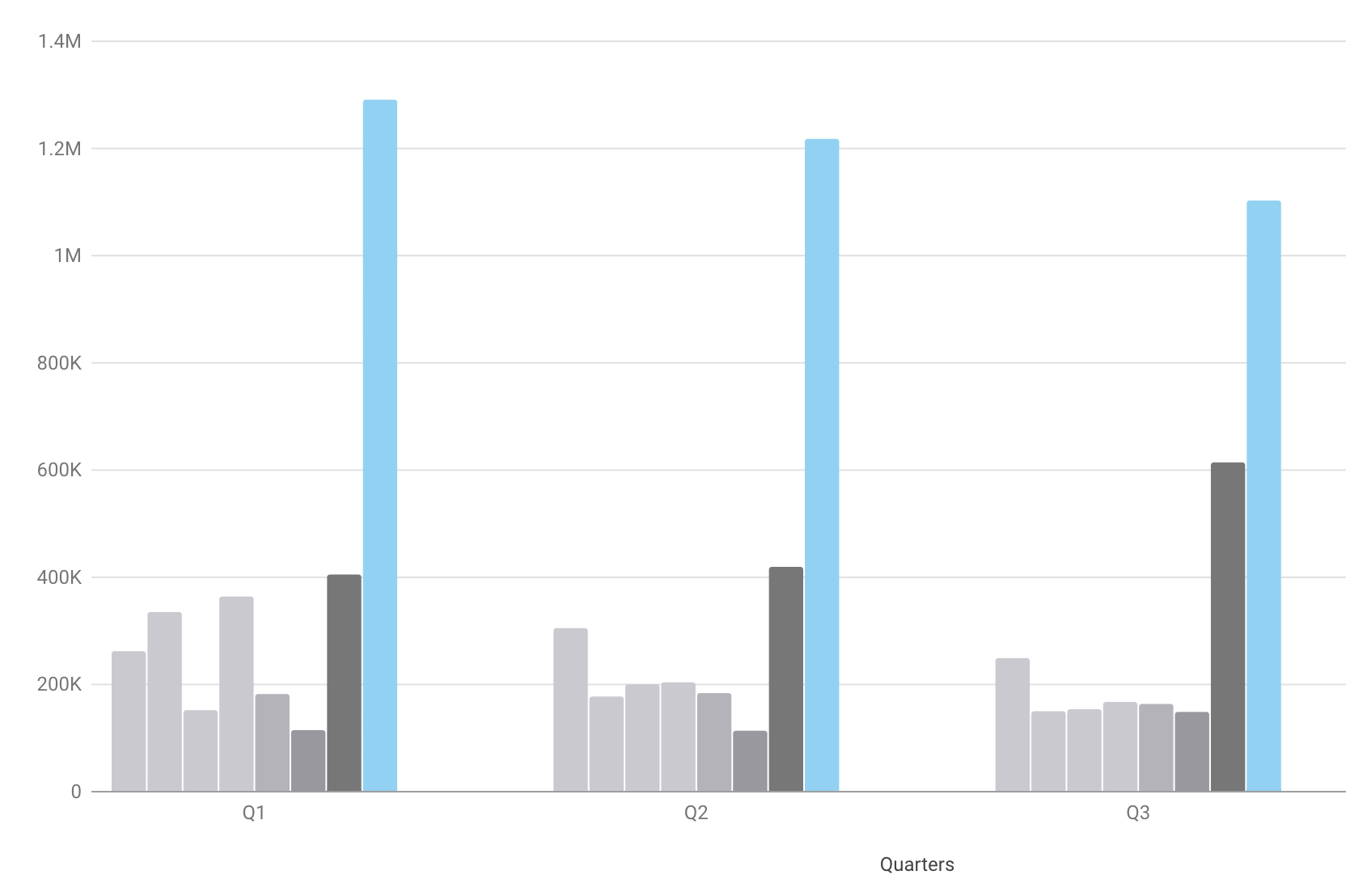 Date Online: 2019-08-15
LAVAL, Quebec, Aug. 15, 2019 (GLOBE NEWSWIRE) -- Urbanimmersive Inc. ("Urbanimmersive," the "Company" or "UI") (TSX VENTURE: UI) (OTC PINK: UBMRF), the leading real estate content marketing platform, today announces its financial results for the third quarter ended June 30, 2019.
Highlights
Gross Merchant Volume ('GMV') of $3,081k for Q3-19 while compared to $1,066k for Q3-18, a growth of $2,015k or 189% and a GMV of $7,526k for the first 9 months of 2019 compared to $1,996k for the first 9 months of 2018, a growth of $5,530k or 277%;


Revenues of $1,104k for Q3-19 compared to $624k for Q3-18, an increase of $480k or 77%;


Gross margin of $959k (86.9%) for Q3-19 compared to –$16k (-2.6%) for Q3-18 (increase of $975k) and compared to $609k (49.1%) for Q2-19 (increase of $350k or 37.8%);


EBITDA of $522k for Q3-19 compared to – $410k for Q3-18 (increase of $932k) and compared to $21k for Q2-19 (increase of $501k);


Net income of $516k for Q3-19 compared to –$452k for Q3-18 (improvement of $968k) and compared to $59k for Q2-19 (improvement of $457k);
Cashflows related to operating activities of 419k$ for Q3-19 compared to –$408k for Q3-18 (improvement of $827k) and compared to $78k for Q2-19 (improvement of $341k);


Return to a positive working capital of $115k (excluding the current portion of long-term debt);


Renewal of terms and conditions of the US term loan in compliance with its required financial covenants and reclassed as long-term debt.


Appointment of Simon Bédard as Chief Financial Officer on June 3rd, 2019 and Scott Felsenthal on the Board of Directors.
ACHIEVEMENTS
" This record quarter in terms of financial performance confirms that the completed integration of our American subsidiary Tourbuzz has been a great success and after all our efforts, we have been able to deliver in achieving the anticipated operational, technological and financial synergies. In this quarter, we achieved improved profitability, demonstrated our ability to self-sustain financially in our activities, increased our liquidity position and reached a positive working capital. In addition, following the completion of the conversion of Urbanimmersive's merchant billing method in March 2019 to move them to our integrated high-margin service platform, we were able to significantly improve our margins while maintaining our revenue growth and strengthen our existing customer base, " said Ghislain Lemire, President and CEO of Urbanimmersive.

" While the first two quarters of 2019 were mainly focused on the operations and integration of Tourbuzz's business, we have made progress over the last quarter on several product development projects that will allow Urbanimmersive to sustain its revenue growth through 1) new business solutions and 2) cross-selling opportunities between Urbanimmersive and Tourbuzz. For example, we began migrating Tourbuzz customers to Urbanimmersive's integrated high-margin service platform. In addition, the new website launched in April as well as new features and designs added to our platform have allowed us to improve our visibility ", added Ghislain Lemire.

" Since early June 2019, we have been able to benefit from the expertise of our new Chief Financial Officer, Simon Bédard. Simon has an extensive educational background and vast experience in financial and strategy management, particularly with respect to public / private financing, acquisitions and to the technology industry, for which he can contribute by adding value in our various growth opportunities. We are delighted to have recently been able to renew the terms and conditions of our US term loan to enable us, among other things, to comply with the required covenants and reclass the loan as a long-term debt ", added Ghislain Lemire.
" We also were pleased to welcome Scott Felsenthal to the Board of Directors during the quarter. Scott played a significant role in our acquisition of Tourbuzz LLC and in just his first few months as a Director has introduced us to some strategic opportunities and his network of investors. Additionally, we look forward to leaning on him for legal expertise as it relates to current and future opportunities that are being explored ", said Ghislain Lemire.
The Company also announces that 100,000 share purchase options have been granted to a member of the Board of directors pursuant to the terms of its share option plan (the "Plan"). These options are exercisable at $0.075 per share and expire on August 15, 2024. The Plan provides that options may be exercised on a cumulative basis over a period of three years from the date they are granted, as to one-third every year.
TSX Venture Exchange has not reviewed this press release and has neither approved nor disapproved the contents of this press release.
Investor Conference Call
UI will be hosting a conference call to discuss these results and answer questions at 4:00 p.m. (ET) today, August 15, 2019. To participate in the conference call, please dial toll free number (877) 620-1735 or international number (470) 414-9786 five to 10 minutes before the call is scheduled to begin. A replay will be available for 7 days from August 15, 2019 7:00 p.m. to August 22, 2019 7:00 p.m. The number to hear the conference replay are (855) 859-2056 or (404) 537-3406. Conference ID for the conference call and the replay is 1181274.
About Urbanimmersive
Urbanimmersive is a content marketing platform for real estate professionals. The Corporation connects real estate professionals, photographers and writers in order to simplify and optimize original content production workflow. Urbanimmersive enables its customers to leverage their marketing investment while increasing productivity, competitiveness, their web visibility, consumer engagement with their brand and ultimately, their revenue.
Caution of Forward-Looking Statements
Certain statements in this news release, other than statements of historical fact, are forward-looking information that involves various risks and uncertainties. Such statements relating to, among other things, the prospects for the company to enhance operating results, are necessarily subject to risks and uncertainties, some of which are significant in scope and nature. These uncertainties may cause actual results to differ from information contained herein. There can be no assurance that such statements will prove to be accurate. Actual results and future events could differ materially from those anticipated in such statements. These and all subsequent written and oral forward-looking statements are based on the estimates and opinions of the management on the dates they are made and expressly qualified in their entirety by this notice. The Company assumes no obligation to update forward-looking statements should circumstances or management estimates or opinions change.
For more information, please contact:
Urbanimmersive Inc.
Ghislain Lemire
President & CEO
514-394-7820 X 202
ghislainlemire@urbanimmersive.com
www.urbanimmersive.com
Simon Bédard, CA, CPA, CFA, MBA
Chief Financial Officer
514 394-7820 X 224
simonbedard@urbanimmersive.com