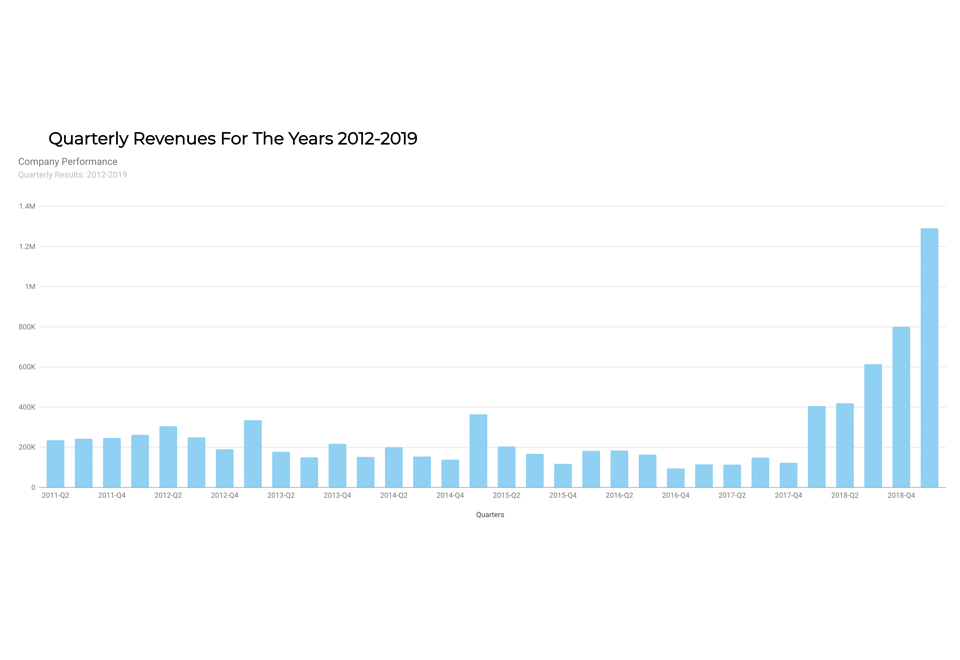 Date Online: 2019-03-01
LAVAL, Quebec, Feb. 28, 2019 (GLOBE NEWSWIRE) -- Urbanimmersive Inc. ("Urbanimmersive", the "Company" or "UI") (TSX VENTURE: UI.V) (OTC PINK: UBMRF), the real estate content marketing platform, today announces record revenue of $1,292,401 for the quarter ended December 31, 2018.
HIGHLIGHTS
Record revenue of $1,292,401 with a growth of $885,000 or 218%, including an organic growth of 31%, for the three-month period ended December 31, 2018, compared to the three-month period ended December 31, 2017;


Record gross profit of $752,000 for the three-month period ended December 31, 2018, compared to $11,000 for the three-month period ended December 31, 2017;
ACHIEVEMENTS
"This record in the quarterly revenue results further confirms our growth strategy and demonstrate that we are on the right path. Our continuous efforts in concentrating our resources on higher-margin products coupled with Tourbuzz acquisition numbers are starting to show tangible results." said Ghislain Lemire, Urbanimmersive's president and chief executive officer. "We believe that the growth of our revenues, the ongoing integration of the North American clientele on Urbanimmersive's platform and the creation of synergies following the acquisition of Tourbuzz will enable us to achieve profitability in short and medium term." Added Ghislain Lemire.
During the last quarter, the Corporation realized synergies following the acquisition of Tourbuzz which management estimates will reduce operating by approximately US$1,200,000 per year. The Corporation has sunset some Tourbuzz products and laid off engineers and managers who were dedicated to these projects. In addition, the Corporation has concluded an agreement to terminate the lease of Tourbuzz's facilities in Atlanta, resulting in additional savings. The Corporation's next goal will be to focus on high-margin products and services to improve its financial performance.
The acquisition of Tourbuzz allowed Urbanimmersive to become the leading visual content independent network in North America. This leading position now enables Urbanimmersive to open partnership discussions with different real estate organization groups by the fact the Corporation can distribute and promote services in practically every city in North America. The recent Image Data Feed Agreement with Zillow's announcement is a good example and the Corporation intends to continue further discussions with Zillow and other major groups to leverage this leading market position.
The acquisition of Tourbuzz has also allowed Urbanimmersive to have access to highly valuable intellectual property related to image recognition machine learning Artificial Intelligence image recognition projects done by Tourbuzz. The Corporation has recently announced its intention to pursue the development of this AI technology in its office of Montreal with the goal of further transforming Urbanimmersive into an even more progressive real estate content marketing company using natural text languages to assist production of storytelling contents.
SELECTED FINANCIAL INFORMATION
Three-month
period ended
December 31, 2018
Three-month
period ended
December 31, 2017
$
$
Revenue
1,292,409
406,652
Cost of sales
540,090
395,550
Gross profit
752,319
11,102
Operating expenses
1,180,443
358,815
Other expenses (revenues)
(1,090,791)
23,933
Net earnings (loss) and comprehensive income (loss)
662,667
(371,646)
Basic and diluted net earnings (loss) per common share
0.01
(0.01)
The financial statements and related management's discussion and analysis ("MD&A") can be viewed on SEDAR at www.sedar.com.
ABOUT URBANIMMERSIVE
Urbanimmersive is a content provider marketplace for real estate professionals. The Company connects real estate professionals, photographers and writers in order to simplify and optimize original content production workflow. Urbanimmersive enables its customers to leverage their marketing investment while increasing productivity, competitiveness, their web visibility, consumer engagement with their brand and ultimately, their revenue.
For more information, please contact:
Urbanimmersive Inc.
Ghislain Lemire
President & CEO
514-394-7820 X 202
ghislainlemire@urbanimmersive.com
www.urbanimmersive.com
Certain statements in this news release, other than statements of historical fact, are forward-looking information that involves various risks and uncertainties. Such statements relating to, among other things, the prospects for the company to enhance operating results, are necessarily subject to risks and uncertainties, some of which are significant in scope and nature. These uncertainties may cause actual results to differ from information contained herein. There can be no assurance that such statements will prove to be accurate. Actual results and future events could differ materially from those anticipated in such statements. These and all subsequent written and oral forward-looking statements are based on the estimates and opinions of the management on the dates they are made and expressly qualified in their entirety by this notice. The Company assumes no obligation to update forward-looking statements should circumstances or management estimates or opinions change.