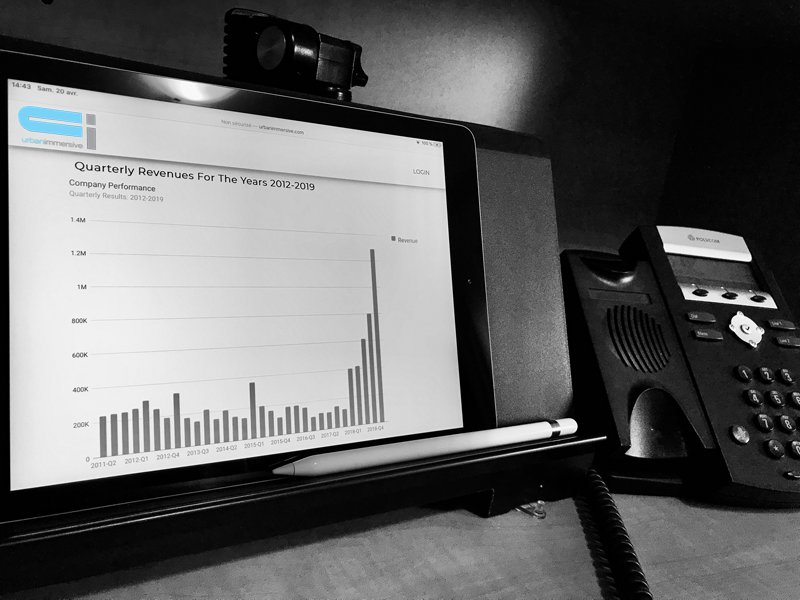 Date Online: 2019-11-04
LAVAL, Quebec, OCTOBER 31, 2019 - Urbanimmersive Inc. ("Urbanimmersive," the "Company" or "UI") (TSX VENTURE: UI) (OTC PINK: UBMRF), the leading real estate photographers business solution, is pleased to announce its preliminary unaudited financial results for the fourth quarter ended September 30, 2019.
The Company wishes to underline that these preliminary unaudited financial results are based on management's initial compilation of financial results for the quarter ended September 30, 2019 and are subject to modifications in conjunction with the completion of the Company's annual closing and audit processes.
For Q4-19, the Company generated revenues of $864k ($812k for Q4-18), gross margin of $816k ($273k for Q4-18), operational income of $321k (-$719k for Q4-18) and cash flows from operating activities of $407k (-$277k for Q4-18). The Company is planning to release its annual audited financial statements on or about January 13, 2020.
Signature of a Letter of Intent for the refinancing of the US term loan
The Company is pleased to announce the signature of a letter of intent with a financial institution to refinance its US term loan with a current balance of Can$ 1.15 million. Terms of this 3-year loan include a 10-year amortization period, a variable interest rate of prime rate + 5.0% (7.45%) and similar guarantees to the existing loan. Under those new terms, the Company shall benefit from a reduced debt service on the loan (principal and interest) of nearly half with monthly payments to decrease from $36.0k to $18.5k for an annual saving of approx. $210k. This letter of intent also includes a $300k term loan (when needed) to support the Company's sales and marketing and a $600k line of credit for strategic acquisition opportunities. Closing of this financing is expected before the end of this current quarter (Q1-20).
During the current quarter (Q1-20) and following an in-depth review of Company's products and services, the Company realized additional operational synergies that will ultimately generate more than $200k in annual savings. In terms of sales, the Company wishes to highlight the recent addition of two new major customers, including a 3-year agreement with a first Quebec-based client using the Tourbuzz platform, which together should generate additional revenues of approx. $60k/year.
" Our Q4-19 preliminary financial results are well aligned with our expectations, confirmed our capacity to generate high margins and our ability to self-sustain financially our activities with a third quarter in a row of positive cash flows from operations. We also observe a growing velocity from our customer onboarding process for our various products. This accelerating traction and improved financial situation should provide us more flexibility to invest in the development and marketing of our new business solutions and be more active in the strategic M&A market in the upcoming months ", said Ghislain Lemire, President and CEO of Urbanimmersive.
TSX Venture Exchange has not reviewed this press release and has neither approved nor disapproved the contents of this press release.
About Urbanimmersive
Urbanimmersive is the leading global SaaS business solution for real estate photographers. The company provides the most complete set of productivity features, services and added values on the market which enable real estate photographers to increase their productivity, competitiveness, web visibility and their revenue.
Caution of Forward-Looking Statements
Certain statements in this news release, other than statements of historical fact, are forward-looking information that involves various risks and uncertainties. Such statements relating to, among other things, the prospects for the company to enhance operating results, are necessarily subject to risks and uncertainties, some of which are significant in scope and nature. These uncertainties may cause actual results to differ from information contained herein. There can be no assurance that such statements will prove to be accurate. Actual results and future events could differ materially from those anticipated in such statements. These and all subsequent written and oral forward-looking statements are based on the estimates and opinions of the management on the dates they are made and expressly qualified in their entirety by this notice. The Company assumes no obligation to update forward-looking statements should circumstances or management estimates or opinions change.
For more information, please contact:
Urbanimmersive Inc. Ghislain Lemire President & CEO 514-394-7820 X 202
ghislainlemire@urbanimmersive.com
Simon Bédard, CA, CPA, CFA, MBA
Chief Financial Officer
514 394-7820 X 224