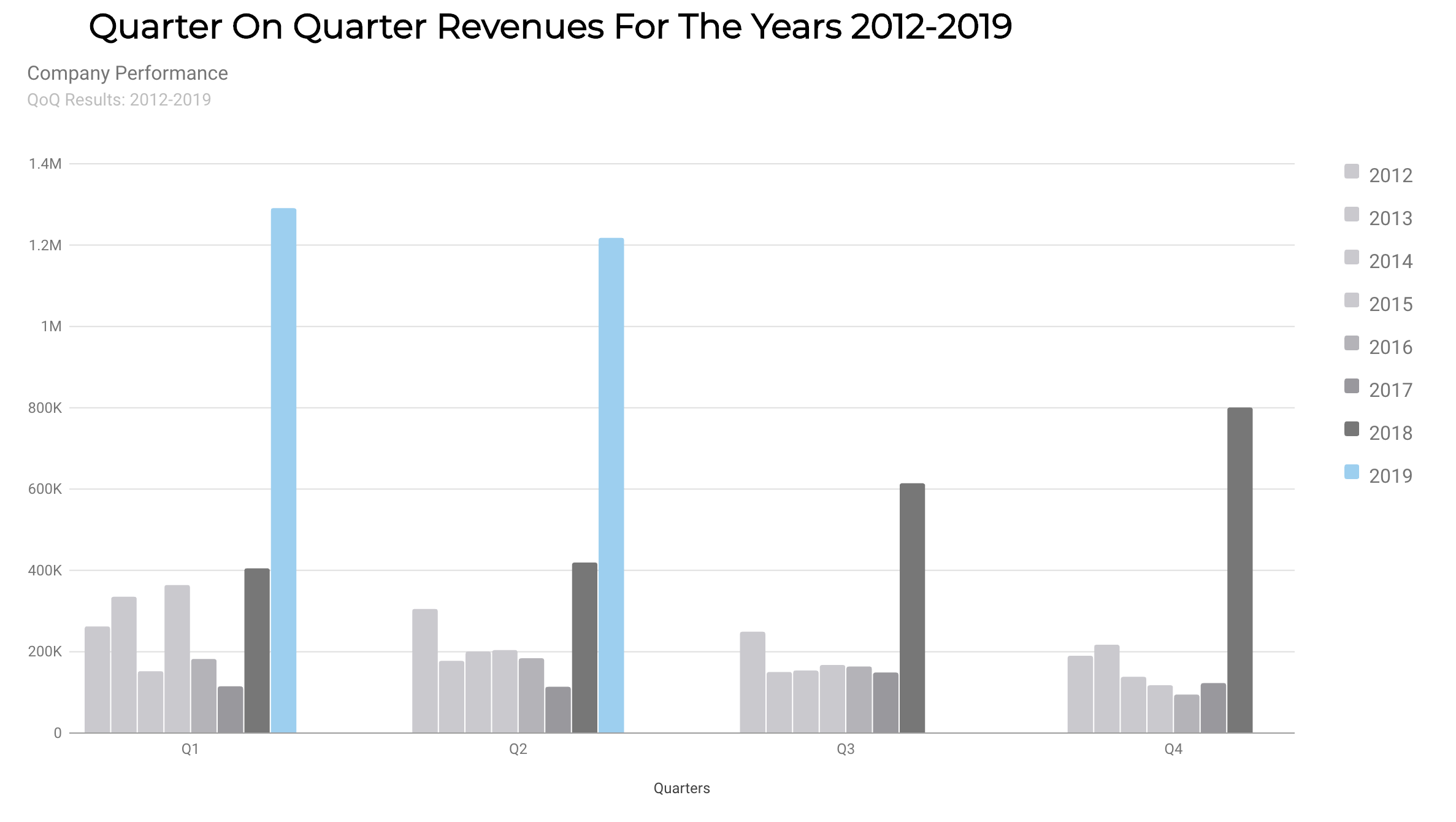 Date Online: 2019-05-28
LAVAL, Quebec, May 28, 2019—Urbanimmersive Inc. ("Urbanimmersive," the "Company" or "UI") (TSX VENTURE: UI) (OTC PINK: UBMRF), the leading real estate content marketing platform, today announces record revenue of $1,219,000 for the second quarter of 2019, ended March 31.
Highlights
Revenue of $1,219,000 with a growth of $798,000 or 190% for the three-month period ended March 31, 2019, compared to the three-month period ended March 31, 2018;
Gross profit of $602,000 for the three-month period ended March 31, 2019, compared to $65,000 for the three-month period ended March 31, 2018;
Net earnings of $58,734 for the three-month period ended March 31, 2019, compared to a net loss of $354,398 for the three-month period ended March 31, 2018;
Completion of Tourbuzz products' technological integration;
Reduction of operational expenses of $478,000 compared to the previous quarter ended December 31, 2018;
Conversion of all merchants using low-margin services to new high-margin platform features;
Disclosure of a new key performance metric, the Gross Merchant Volume (GMV) totalizing $2,300,000 for the three-month period ended March 31, 2019.
Subsequent Events
Launches of a new corporate website with enriched investors section;
Appointment of Simon Bédard as Chief Operating Officer, effective June 3rd.
"This additional record quarter expresses our commitment in delivering on promises in regard to our recent US-based acquired company, Tourbuzz. While delivering significant operational and cost synergies, we've been able to maintain our revenues and fully complete operational and technological integrations of Tourbuzz during the lowest market activity season. The successful launch of our new corporate website has generated a great number of new leads and it clearly demonstrates the success of Tourbuzz integration by providing a unified marketing message to the market and real-time merged key metrics data to investors" Stated Ghislain Lemire, CEO of Urbanimmersive.
During the second quarter of the 2019 fiscal year, aligned with the goal of focusing on high-margin services previously communicated, the Company has undertaken the conversion of all merchants that were outsourcing their invoices to Urbanimmersive to a new platform higher-margin services. The conversion has been progressively achieved during the second quarter and has successfully ended during the third quarter. It is expected that this merchant service usage conversion could decrease the growth rate of the top line revenue as the Company will no longer invoice merchants photoshoot services, and therefore, will no longer recognize the revenue of it. However, the replacement service will have a direct and positive impact on the gross margin going forward.
During the same quarter, concurrent to the launch of the new corporate website, the Company started disclosing a new key performance metric indicator, the Gross Merchant Volume (GMV). The GMV is an indicator of the business solution adoption as it represents the value of all transactions performed by merchants using Urbanimmersive's business solutions for invoicing and/or collecting payments for their services. The Gross Merchant Volume (GMV) for the second quarter of 2019 is $2,300,000. The GMV monthly data is provided in real time in the investors' section of the website and the last 12 months GMV data is updated weekly on the main page of the corporation website.
"While the first part of 2019 has been to focus on operations and product integration, the second part of 2019 will be to start delivering on product synergies with the goal of creating predictable patterns and models to acquire and on-board more merchants on our business solutions. We are already in advanced stage discussions with some of our most sizable customers and they are eager to grow their business within our content marketing platform. We look forward to sharing details of these successes in the months to come. In addition to now turning around the breakeven point in terms of cash flow and a positive EBITDA, it's very exciting to think that every gain in sales will, from now on, have a direct impact on profitability at a corporate level" Added Ghislain Lemire.
Subsequent to the second quarter, Urbanimmersive has appointed Simon Bédard as Chief Financial Officer. M. Bédard will take office on June 3, 2019, replacing Martin Thibault, a co-founder of Urbanimmersive, who was acting as interim CFO since 2015.
Mr. Bédard is a Chartered Professional Accountant (CPA, CA, Laval University) since 1995, a Chartered Financial Advisor (CFA) and holds an MBA from McGill University, dual specialization in Finance and Strategy. Over the years, Mr. Bédard held various senior positions including Vice-President Finance of a mid-size private company in the environmental service industry as well as senior positions held in large advisory firms (Deloitte & Touche LLP, Ernst & Young LLP) and in investment banking (Desjardins Securities Inc.) and served on the Board of Directors of the Quebec chapter of the MBA Association. Before joining Urbanimmersive, Mr. Bédard was Chief Financial Officer of the public company ATW Tech Inc. (ATW-V) since 2015 which operates in the technology industry, more specifically in the payment solutions and interactive communications.
About Urbanimmersive
Urbanimmersive is a content marketing platform for real estate professionals. The Corporation connects real estate professionals, photographers and writers in order to simplify and optimize original content production workflow. Urbanimmersive enables its customers to leverage their marketing investment while increasing productivity, competitiveness, their web visibility, consumer engagement with their brand and ultimately, their revenue.
Caution of Forward-Looking Statements
Certain statements in this news release, other than statements of historical fact, are forward-looking information that involves various risks and uncertainties. Such statements relating to, among other things, the prospects for the company to enhance operating results, are necessarily subject to risks and uncertainties, some of which are significant in scope and nature. These uncertainties may cause actual results to differ from information contained herein. There can be no assurance that such statements will prove to be accurate. Actual results and future events could differ materially from those anticipated in such statements. These and all subsequent written and oral forward-looking statements are based on the estimates and opinions of the management on the dates they are made and expressly qualified in their entirety by this notice. The Company assumes no obligation to update forward-looking statements should circumstances or management estimates or opinions change.
For more information:
Urbanimmersive Inc. Ghislain Lemire President & CEO
514-394-7820 X 202
ghislainlemire@urbanimmersive.com