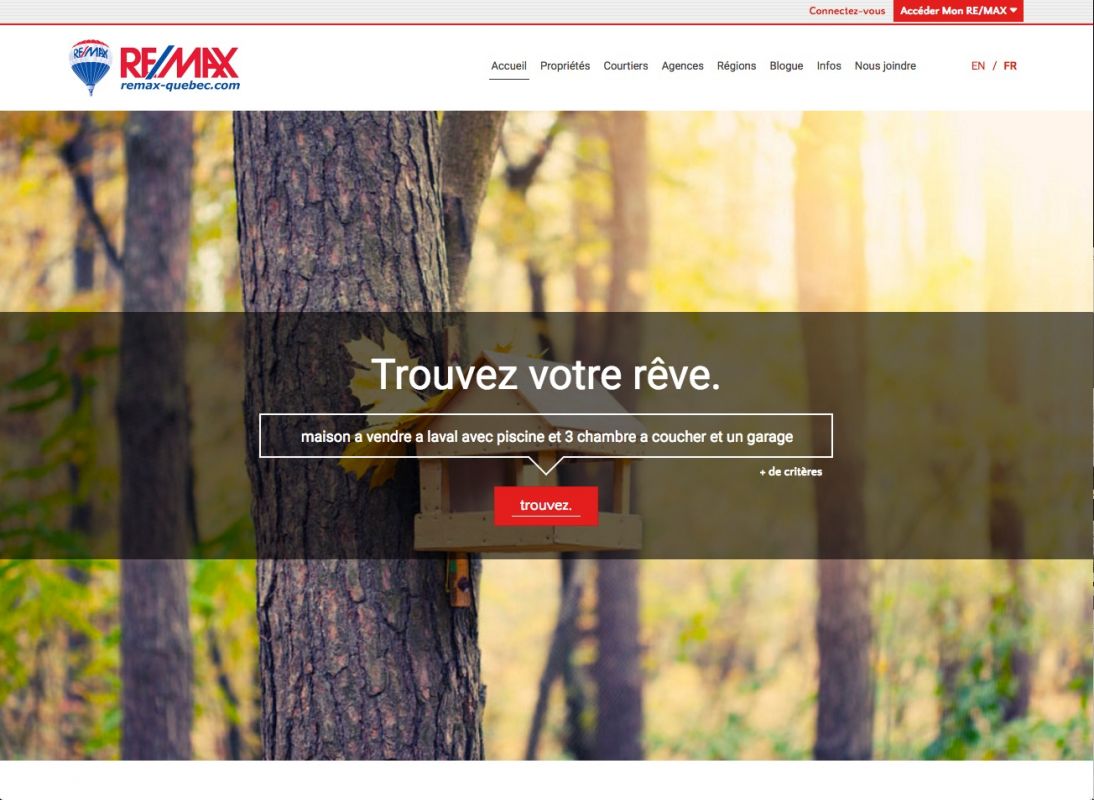 Date Online: 2016-05-24
MONTREAL, QUEBEC--(Marketwired - May 24, 2016) - Urbanimmersive Inc. ("UI" or the "Company")(TSX VENTURE:UI), the real estate content marketplace, is pleased to announce that RE/MAX Québec has officially launched its new website portal www.remax-quebec.com developed in collaboration with Urbanimmersive. Remax-Quebec operates one of the most visited real estate web sites in Canada.
The new website has been designed to be responsive, automatically adjusting to every device's screen size. More importantly, the main feature of the new portal is the unique new search experience field that can interpret long tail keywords. For example, « house for sale in Montreal starting at 500,000$ with a pool and a fireplace » will filter the search results accordingly. The new web site also integrates Urbanimmersive's content marketing solution enabling RE/MAX Québec to provide readers with exclusive and original real estate blog content.
Ghislain Lemire, CEO of Urbanimmersive, stated "Although developing websites is not our core business focus, we accepted this mandate a year ago in order to strengthen our relationship with RE/MAX Québec and to better understand their needs related to the integration, production, management and publication of real estate blog content." Mr. Lemire added, "Working so closely with with RE/MAX Québec has enabled us to provide better blog content solutions. The new search experience field developed by Urbanimmersive also demonstrates the talent and adaptability of our Company's powerful software engineer team. »»
About RE/MAX Québec
RE/MAX Québec is the most important real estate broker network in the province with more than 3,200 brokers across 133 offices. More than 40% of properties sold in Quebec each year are sold by this network that only represents 20% of all brokers. RE/MAX is rated among the 30 most-admired companies in Quebec, according to Léger Marketing and Journal Les Affaires.
For more information, visit www.remaxquebec.com.
About Urbanimmersive
Urbanimmersive is a content marketing marketplace for real estate professionals. The Company connect real estate professionals, photographers and writers in order to simplify and optimize original content production workflow. Urbanimmersive enables is customers to leverage their marketing investment while increasing productivity, competitiveness, their web visibility, consumer engagement with their brand and ultimately, their revenue.
This news release contains certain forward-looking statements that reflect the current views and/or expectations of the Company with respect to its performance, business and future events. Such statements are subject to a number of risks, uncertainties and assumptions. Actual results and events may vary significantly.
Urbanimmersive Inc.
Ghislain Lemire
President & CEO
514-394-7820 X 202
ghislainlemire@urbanimmersive.com
www.urbanimmersive.com

For investor relations,
Contact Financial Corp.
Frederick Chabot
438-863-7071
frederick@contactfinancial.com